Being part of a community, and having support networks, is really important – especially during a crisis like the coronavirus pandemic. The Active Communities programme is a Sport England Local Delivery Pilot, which is all about building stronger and more resilient communities. Although many of our projects, which help bring people together, have been put on hold this year, we have noticed that local streets, neighbourhoods and communities have been better connected and more resilient due to the work and plans we had already made together.
Cancelled plans and new directions:
Like everyone, we had many plans and expectations for 2020. We had started organising lots of activities with communities, which were set to take place in the spring and summer, such as Easter holiday events, VE day and Eid celebrations. We had been working with Migrant Help to organise 4 days of events to mark Refugee Week in June, including a street closure, food from the Big Feed Project, as well as Active Parks, Run and Bikes activities. When lockdown was introduced, these plans were put on hold and our focus shifted to the #BrumTogether relief work.
Covid-19 has tested the way we work and the communities we serve. But we have seen examples of how communities have been able to come together, as a result of the work we've done, and demonstrate a greater level of resilience and community support. Communities have been able to stay connected and continue to organise local events to support each other and the wider community.
Street closures became street support networks:
Active Streets events haven't been possible this year, but the relationships that neighbours had already formed in the planning stages and through events in the past meant that local support networks were already formed. Occupants of a street in Rotton Park were planning to have a street closure this Spring, following their first closure last year. Although this event couldn't go ahead, Scott, who lives on the street, explained that because the first street closure had already happened, the street was better connected.
He said, 'I think the street closures are just so powerful in building stronger communities' and explained that now he definitely feels closer to his neighbours.
During lockdown, Scott decided to host a front garden quiz for his neighbours. 'We had a "guess the intro" round that my wife organised in the front garden, just for people to have some distant socialising.' He explained that after the quiz 'Suddenly people came out that we don't talk to often; they were putting notes through our door and messages to say how nice it was.'
Another Active Streets participant, Razia, lives on a street in Hay Mills which has organised 6 street closures. Razia explained that these events have helped them 'become a community, rather than people just living on the street.'
During the coronavirus crisis, Razia's neighbours have been staying in touch using WhatsApp and checking in on each other. She found out one neighbour was often going without food as she couldn't always go out and get it, 'I told her don't ever think you can't ask us for help.'
Some streets have been organising local Active Streets Share food collections. Streets and neighbourhoods have set up local collections of food supplies to support nearby foodbanks and the #BrumTogether food distribution effort.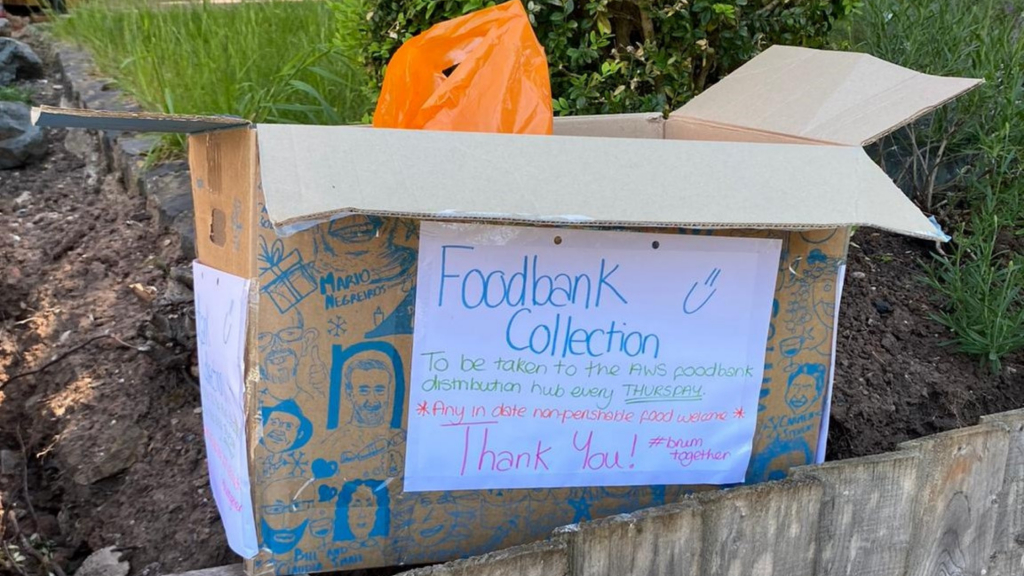 New opportunities for community growing:
The Reclaiming the Wild team normally organise lots of community growing and nature-based events such as tree planting and community gardening. Although these can't go ahead as normal, some people have been able to spend more time in nature. David from Kingstanding had been working with Relclaiming the Wild to transform a disused piece of land into Kingshurst Community gardens. He explained that the growing community was largely made up of older people who had been there for many years. But during lockdown, people like Ian, who was unable to work as a chef, started spending more time at the community garden. He explained that these new participants were 'creating a nice community spirit.'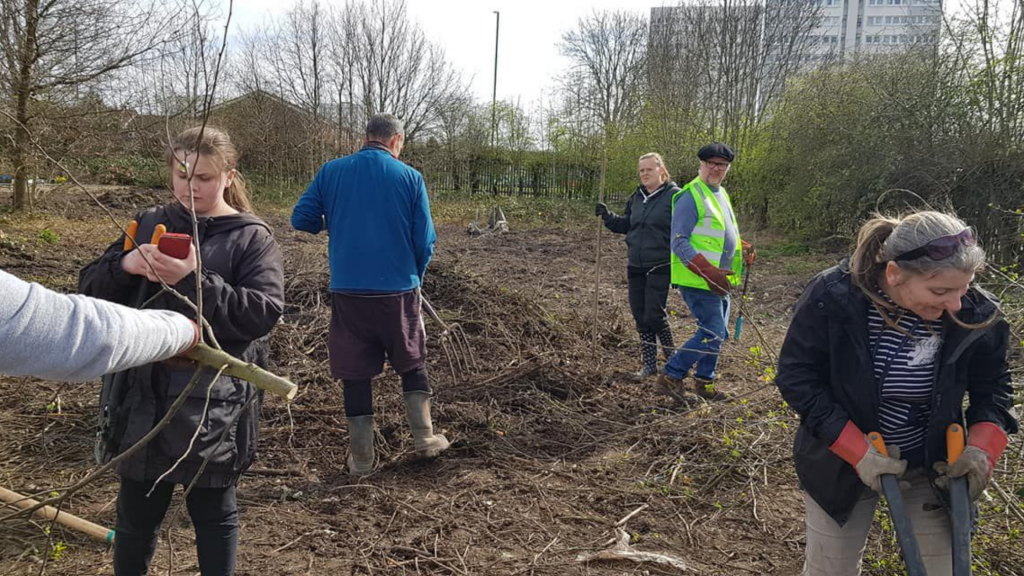 Gardening has been an important source of respite for many over the last few months. David explained, 'It's just something to do. It's something that you can focus on. It's something to get out of bed for.' Wild projects have helped individuals and communities to keep active in outdoor spaces while creating connections and making improvements to their local areas.
Reclaiming the Wild have given out seed packs, instructions, and compost for people to grow vegetables and plants for hanging baskets. Neighbours have been sharing photos of their seeds' progress and gardening tips in their community WhatsApp groups, which have also become a space for people to check-in on one another.
#BrumTogether:
Independent research conducted by The Leadership Centre over the last few months has shown that the Active Communities programme has helped to set the conditions for the collaborative work and networked community response of #BrumTogether during lockdown. The programmes commitment to working with and not do to has formed an important foundation for this work which saw over 80 partners come together through a community food response, the emergence of the Wear and Share initiative, and extensive collaboration with statutory and health partners to develop a phone triage and befriending service.
Looking ahead:
Covid-19 has changed some of our ways of working. There are now more, and different, barriers and challenges facing our communities. But we have been heartened to see the many ways the communities we work with have demonstrated their resilience during this uncertain time. As we look ahead, with more uncertainty to come, we will continue to journey with communities, responding to their needs and working together to become more active and connected.
What examples of community resilience have you seen recently? Tell us about it here: https://theaws.co.uk/positive-stories/