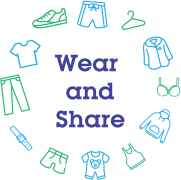 Wear & Share is a project helping Birmingham individuals and families, who are struggling to obtain essential items, such as clothing, during the lockdown.
The impact of Covid-19 and the resulting lockdown can be very challenging for many families and charities are seeing an increasing demand for basic resources that many people take for granted, such as food, clothes and toiletries. The Wear and Share project is now coordinating the distribution of clothes across Birmingham. Many of the clothes have been collected by the Aston Villa Foundation from grassroots organisations across Birmingham. We are working with the Foundation and other partners from the #BrumTogether initiative to deliver these clothes along with a team of amazing volunteers.
Donating clothes
Help us distribute clothing
We are asking that organisations and groups who would like to get behind this initiative get in touch with us to talk about how we can coordinate efforts such as future clothes collections and distributions. Please email us at [email protected]
Make a request for clothing
For individuals or organisations wishing to make a clothing request, please complete the form below. Please note that organisations are currently able to collect from Ladywood Community Centre from Wednesday to Friday by appointment only. We are also able to deliver a limited number of individual clothing requests. After you have made your request, someone from the Wear and Share team will be in touch to discuss your requirements and arrange a convenient time. Please be aware that we will aim to provide all requested items of clothing, but we are reliant on donations.
Wear and Share Request Form
If you are feeling lonely and need a friendly chat, or need some food or urgent supplies then please don't hesitate to contact us
All money received will go directly to the purchase of food items, hygiene packs, baby packs, and activity packs for children
We want to shed light on the positive stories of people working together, helping the community and looking after each other.