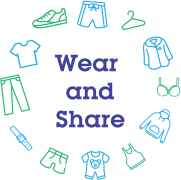 Wear & Share is a project helping Birmingham individuals and families, who are struggling to obtain essential items, such as clothing, during lockdown. 
The impact of Covid-19 and the resulting lockdown can be very challenging for many families and charities are seeing an increasing demand for basic resources that many people take for granted, such as food, clothes and toiletries. The Wear and Share project is now coordinating the distribution of clothes across Birmingham. Many of the clothes have been collected by the Aston Villa Foundation from grassroots organisations across Birmingham. We are working with the Foundation and other partners from the #BrumTogether initiative to deliver these clothes along with a team of amazing volunteers.
Donating clothes
Thanks to the generosity of the community, we have received a large number of donations of clothes and are at capacity. We are now only able to accept donations of men's, women's and kids pants for the #ThisIsPants campaign. Donations of unused, brand new (with tags or in original packaging), pants can be dropped off at: 10 Bromley Street, Digbeth, B9 4AN, 10am-3pm on Fridays.
#ThisIsPants
In February 2021, we launched the #ThisIsPants campaign to support the Wear and Share project in fulfilling the high demand of requests for pants. You can find out more here or make a donation to support the campaign through JustGiving here.
Volunteer with us
We need volunteers to help sort donations and fulfil requests for clothing at our Digbeth base. Find out more and get involved here.
Get involved with the community bunting project
If you have clothing or household material that isn't good enough quality to donate to our Wear and Share Project, we'd love for you to get involved with our community bunting project. We are looking for members of the community to create unique bunting triangles from fabric they have at home, to decorate the Balsall Heath Share Shack. Find out more and get involved here.
Help us distribute clothing
We are asking that organisations and groups who would like to get behind this initiative get in touch with us to talk about how we can coordinate efforts such as future clothes collections and distributions. Please email us at [email protected]
Make a request for clothing
For individuals or organisations wishing to make a clothing request, please complete the form below. Organisations are currently able to collect from Changes in Digbeth, Monday to Friday, by appointment only. For individuals requesting, we deliver the items within Birmingham and Solihull. Please note that if you are outside this area we are not able to supply clothing to you. After you have made your request, someone from the Wear and Share team will be in touch to discuss your requirements, or arrange collection times for organisations. We are working to a longer time frame currently and it may take 3-4 weeks between submitting your request to receiving clothing. Please be aware that we will aim to provide all requested items of clothing, but we are reliant on donations.
Additional support
Additional support is available from us and partner organisations across the city, find out more here. If you are struggling with bills, please also take a look the Big Difference Scheme from Severn Trent Water to see if you are eligible for a reduction in water bills here.
If you are feeling lonely and need a friendly chat, or need some food or urgent supplies then please don't hesitate to contact us
All money received will go directly to the purchase of food items, hygiene packs, baby packs, and activity packs for children
We want to shed light on the positive stories of people working together, helping the community and looking after each other.