Since March, The Station pub in Kings Heath has served as a local foodbank. The owners, Darren and Adele, have been working with Birmingham Community Solidarity to use their pub as a space to store, sort and distribute essential food supplies to people in need all across Birmingham. With a team of dedicated volunteers and support from the wider community in Kings Heath and Moseley, they have collected stocks of donations to help keep people fed.
The Station Pub and The Kings Heathens Facebook Group have worked together to set up a scheme to collect food donations on streets to provide supplies to the pub-turned-foodbank. They encourage volunteers to become 'foodbank angels', a term they have adopted to describe people who organise and collect donations from neighbours on their streets. Elisabeth, who is a foodbank angel, explained that she posted flyers through every door in her street asking people to leave two non-perishable food or household items on their doorstep at a set time and day each week. Local volunteers then collect the donations and deliver them to the foodbank, where they are then sorted and redistributed.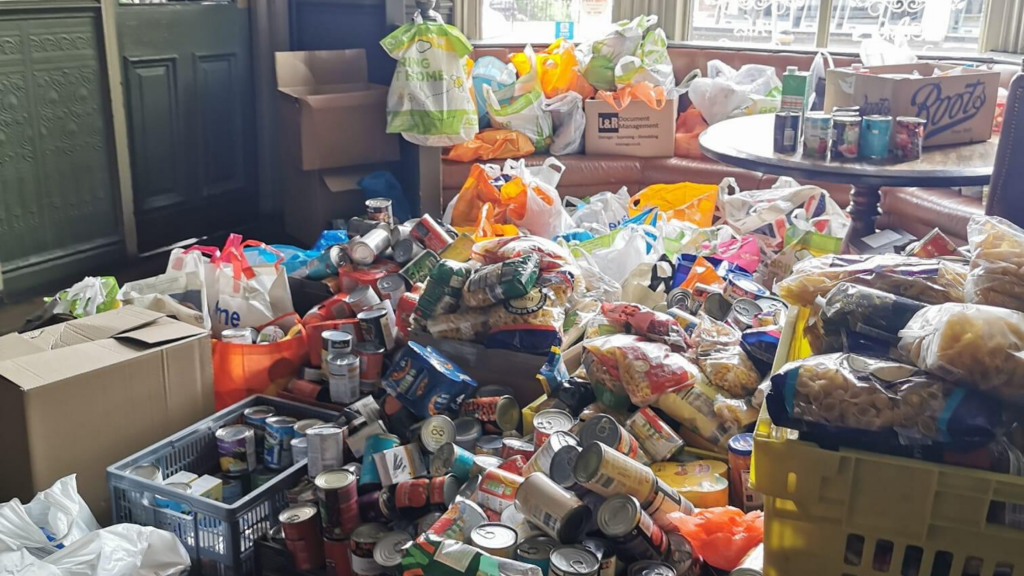 Elisabeth praised Darren and his wife Adele at The Station for setting-up and running the foodbank, 'The response has been amazing, donations have been redistributed all over Birmingham. Darren and Adele have done a wonderful thing for those in need in Brum. Bravo to them.'
At the start of July, the pub reopened to its customers, but the collections are still ongoing, and Darren is looking for an alternative storage space for the food supplies.
The 'foodbank angels' scheme is one of many examples of mutual aid and community support initiatives that have sprung up across Birmingham in response to Covid-19. Individual volunteers, community groups and organisations have come together to form support networks which provide direct relief to those in need. It is a fantastic example of what can be achieved by sharing skills, spaces, time, and resources.
If you would like to organise collections of donations on your street, you can get involved in our Active Street Share project by filling out this form. It's a great opportunity to get to know your neighbours, join a network, share resources and provide support to the wider community.
We are also working in partnership with Thrive Together Birmingham, The Real Junk Food Project and local foodbanks on FeedBirmingham, a campaign to organise local support, donations, and deliveries. You can become a 'food champion' by using this adaptable poster to inspire and arrange food collections within your local area.