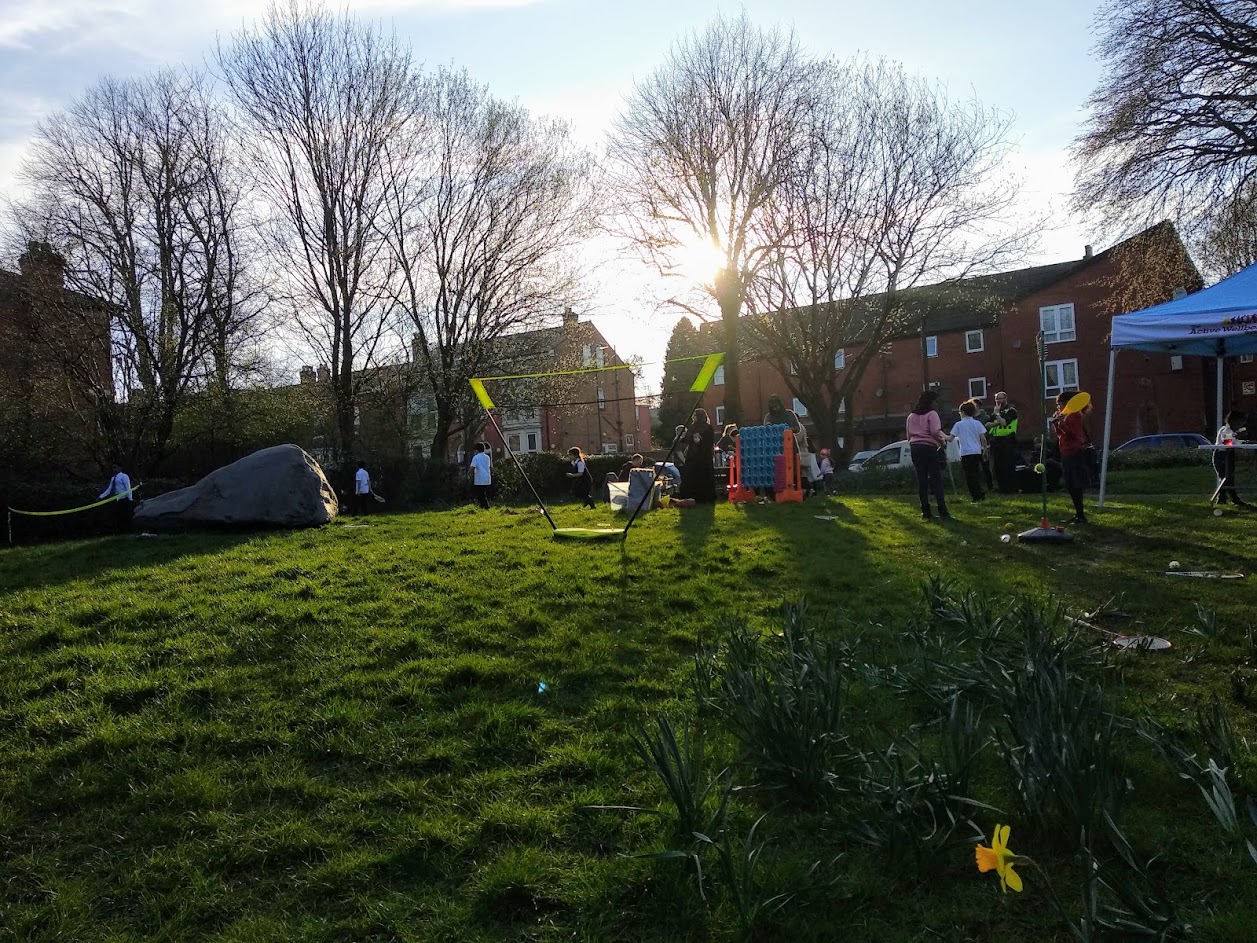 At the end of last month on Wednesday the 20th of March; The Active Well-being Society supported The Accord group to host a community sports and natter day at Trafalgar Road, pocket Park in Balsall Heath/Mosley. The event was centered on creating a discussion with residents to hear their priorities and to find out more about Active Communities.
TAWS was there to promote 'Active Communities' which is focused on creating a growing community 'crowd' of 100,000 people to have a collective voice and online platform helping people connect, communication, collaborate and take part in physical activity. Members will be kept up to date with progress in their area, be sent news on free sport, social activities and events, and will get the chance to vote on their priorities. The Accord group shared a similar objective – being the largest housing and social care organization in the Midlands, they specialise in involving their customers and communities in shaping the homes and services that they provide, the ethos is tenant leadership and control. As we engaged with the adults to have a quick chat about their area, over some biscuits and drinks, the children and other adults had a large range of giant play equipment and sports games giving them a chance in fun social activities while discussing the important issues in their community.
One of the many exciting discussions I had personally with a local resident was about the prospect of re-wilding their surrounding roads, particularly a piece of overgrown green land which we could foresee having raised flowerbeds and a few vegetables, which the local children particularly were excited to lend their energy too. Reclaiming the wilds to bring wild or overrun green spaces back into practical community use. Providing people in urban areas a chance to reconnect with nature on their doorstep and make the space around them more usable instilling sense of local pride.
One mother with a young boy with some learning disabilities was particularly enthusiastic about the prospect of having activities that are easily assessible – being on her doorstep, additionally free of cost too which she explained would be perfect to help her keep her children busy, focused and stimulated and we hope to hear from her in the near future to perhaps set up a street closure.
The day was perfect to play, eat and chat for a few hours to start to get the ball rolling on the ongoing discussions the residents will being having to improve their area how they see fit. With five more events being scheduled for the coming months in the area we've got a lot more to look forward too.