Deputy Leader of the Labour Party, Angela Rayner visited Balsall Heath City Farm on 7th April to see how #BrumTogether has been working with our communities through the Covid-19 pandemic.
Inequalities in Birmingham were pervasive even before the pandemic, and we have seen these inequalities deepen over the last 12 months. Set-up in the first week of lockdown with over 85 organisations, #BrumTogether became a beacon of community spirit and resilience, working together to best support our communities.
During her visit, Angela met with our colleagues from partner organisations including St Pauls Community Trust and Incredible Surplus. Angela saw some of the community projects delivered as part of 'Active Communities', Sport England's Local Delivery Pilot for Birmingham and Solihull. The pilot works with communities to build resilience and provide opportunities to be more civically and physically active.
We work through a range of methods, doing with and not to, supporting communities to come up with their own solutions to improve their health and wellbeing.
An example of these initiatives is the Share Shack – a community space for people to share skills, borrow items and develop relationships. Communities are in as much need now as they were pre-Covid – it has only got worse for those in the most deprived communities.
Share Shacks are accessible, community spaces that build on the great surge of community spirit seen during Covid. They are places where people can come together, share things and co-design activities in response to what they need and would like to see.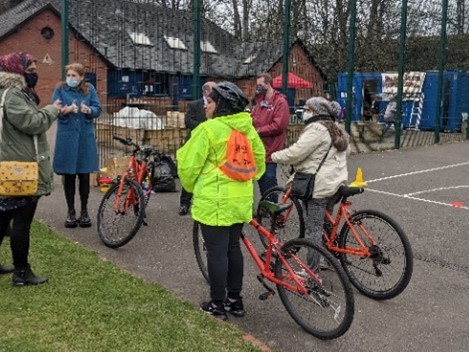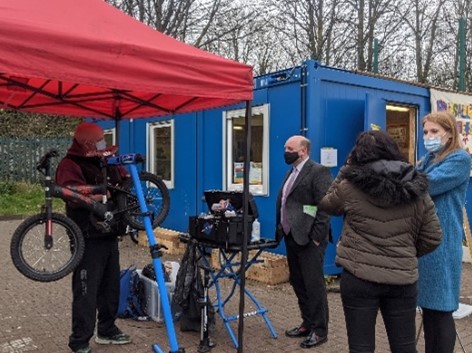 Angela heard first-hand from families who have benefited from free bike giveaways, and Bikeability training. To date, The Active Wellbeing Society have given away 7,000 free bikes, including most recently through 'Bikes on Prescription' in partnership with GP surgeries across the city. A bike mechanic is also on hand to offer free bike safety checks and minor repairs, sharing skills with community members on how to repair their own bikes. 
To round off the visit, Angela enjoyed a tasty takeaway meal from the Big Feed Project's Community Café. Pre-pandemic, the Big Feed Project brought people together to eat and socialise at six Community Cafés across the city. They have provided takeaway hot meals throughout lockdown.
Food poverty in Birmingham was already a reality for a significant proportion of the population before the pandemic. Working collectively, #BrumTogether has been able to meet an immediate and serious need in our city during a time of great change and challenge.
The network has collectively distributed over 750 tonnes of surplus food, delivered over 140,000 food parcels and 27,000 hot meals, giving people a lifeline during the pandemic.
While this pandemic has wreaked havoc nationally and globally, we have come together on the ground boosting community resilience, providing the tools and practical solutions for communities to decide what they need moving forwards, both in the short and long term.
Despite lockdown easing there is still a huge demand for food support in Birmingham. The Food Justice Network was borne out of the #BrumTogether response. The network consists of over 220 charities, grassroot organisations, faith groups and members of the community collectively striving towards eradicating food poverty for good.
To find out about The Active Wellbeing Society and the Active Communities programme, visit www.theaws.co.uk