The Oasis Academy in Short Heath has been working with the Erdington Covid-19 volunteer group to provide vulnerable residents with hot food and food parcels throughout the lockdown.
The deliveries are being made by a team of volunteers, which includes Erdington resident, Surjit, who has autism. With the help of his carer, Helen, Surjit has been making deliveries within the local community almost every day.
And while Surjit and Helen may start their deliveries a little later than everybody else, so Surjit can avoid the 'noise', the duo deliver in exactly the same way as all of the other volunteers. They're provided with bagfuls of items that need delivering and a list of addresses where they need to go.
Surjit, who communicates via an electronic device, programmes the routes into the sat nav and the pair set about delivering the parcels to people, averaging around three deliveries a day.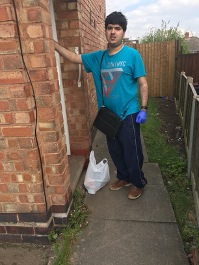 So far, they've delivered 93 deliveries over 33 separate occasions
"Surjit is a kind person and likes to help others. Doing these deliveries has helped by giving him purpose to his day," explains Helen.
"Carrying out these food deliveries has also provided him with the opportunity to meet people and practice new skills, such as talking to others, programming the sat nav, solving problems, being responsible for loading and unloading bags and spotting the houses we're visiting."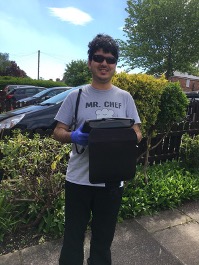 Providing communities with city-wide food donations
So far, 30,960 food parcels and 8,890 cooked meals have been donated to vulnerable communities across Birmingham as part of the #BrumTogether campaign.
If you would like to request a food donation, please complete the short form on this page – https://theaws.co.uk/food/. If you'd like to follow in the footsteps of Surjit and Helen by becoming a food delivery volunteer or help out in any other way, please visit this page – https://theaws.co.uk/support/
Keep #BrumTogether going
Meanwhile, the #BrumTogether campaign urgently needs to raise on-going funds to help continue its work.
If you would like to make a donation to support the campaign (all money received will go directly to the purchase of food items, hygiene packs, baby packs and activity packs for kids) please visit https://www.justgiving.com/campaign/brumtogether