Volunteering with The Active Wellbeing Society
We are currently very short on volunteers to help pack food parcels at our hub in Digbeth, and for drivers to distribute these across the city (travel expenses can be reimbursed).
If you can help with either of these roles, please email: [email protected] directly to let us know your availability for the next few weeks.

Given the current demand for food parcels and reduced volunteer numbers, whether you can help on a one-off basis or more regularly we would love to hear from you! 
For all other volunteering roles please see below.
We want to improve the wellbeing of individuals and communities across Birmingham, and our volunteers play a key part in making this happen. Every volunteer directly contributes to projects that help make our city a better place to live. Volunteering with us offers the chance to work with others– sharing time, skills and energy to support the communities that need us most.
We have a range of projects across the organisation that you can get involved with as a volunteer, depending on what time you have available, and what interests you. Whichever role you get involved with, you will be part of the team making positive changes in communities, and will never be alone. Our roles range from being out in the community spreading the word about our projects, to being behind the scenes and helping to make our projects happen.
If you'd like to get involved, you can read about the roles available and apply through the links below. Once you have made you application you will be able to view and self schedule for any of our volunteering opportunities across the city.
If none of the roles quite hit the mark of what you're looking for, send the team an email on [email protected] with some details on how you think you could help, and we'll aim to get back to you within 5 working days.
Current volunteering opportunities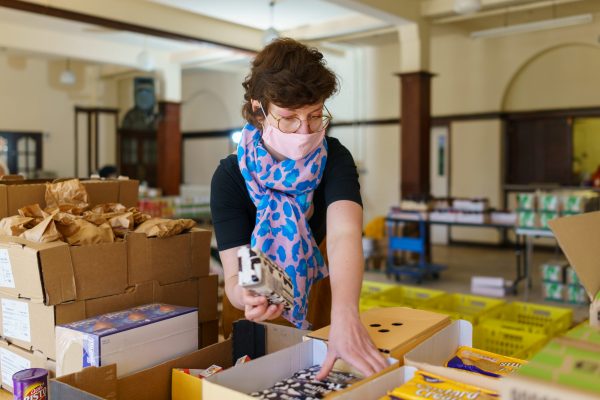 Help out with packing food parcels for individuals and families, and bulk food orders for organisations supporting people in need in our city
Delivery drivers make a big difference by ensuring people in Birmingham have access to the essential supplies they need
If you want to help feed people by preparing, cooking and serving meals using surplus food at our Community Cafés, this role is for you
Support people to live well in and around their homes by making weekly telephone calls to those feeling lonely or isolated
Help create a community space by supporting with landscaping, planting, composting and general horticultural work
Support people to get active, by ensuring small walking group sessions are friendly, safe, and well run