---
By Run Birmingham Activator Sally Bynoe
As you may already know, a lot of the work that we at The Active Wellbeing Society is to do is with people starting out on their exercise journey. With Run Birmingham, we work to support those taking their first steps and often have Couch to 5k running programmes taking place across throughout the year. If you don't know much about the programme, it's basically a good introduction into running and you start with lots of walking and just a little bit of light running to get you going.
In those early weeks, it's about using your legs in a different way and engaging different muscles. I'm not going to lie, it will probably hurt a little as you're using muscles that you probably didn't even know you had but it is well worth it!

Lots of things will probably come into your head, "my feet/legs hurt", "I can't breathe", "I can't run", "what will people think if they see me out trying to run?", "I'm too slow". All of these things are absolutely normal and pop into most people's minds. It's something new and it's ok to recognise there's a bit of fear. Remember, when you start something new you need to learn how to do it. You're not going to be a top athlete just because you've decided you're going to run. Also look to the reason you decided to start, and try to see ahead to how you will feel once you achieve your goal.
Once you complete a session you will hopefully feel a sense of pride and satisfaction. You've just achieved something you didn't think that you could. It's your first building block, so the following session when you return, try to remember how you felt at the beginning of the previous session and remember, you can do it, you've done it before!

It can take a little while to settle in when you start running and it's always ok to walk if you need to. The programme builds slowly so initially it's about learning to use your legs differently, what to do with your arms and how to breathe when you have a slight bounce in your step. It can feel a slow process but I promise you, that you will be making progress.
It's good to check in with your body from session to session. You'll find that something that was hurting before might not be hurting as badly the next time or you go a little further or a little faster. This usually happens without you noticing and as a Run Activator I like to highlight this so you can see the changes are coming.
A great thing to do is to get a jar and fill it with notes of your successes. Don't forget, you're already winning by putting your trainers on and stepping outside of the front door intended to get moving. This is a great tool to keep motivated as when you recognise the small successes, they soon become big!

S from Shard End, Couch to 5k, week 4, run 1.
"I can't believe I've just run for 5 minutes and my back isn't hurting!"


If you are interested in opportunities to exercise The Active Wellbeing Society can help you, check out our activities here


---
Here's Cheryl, 44 from Birmingham. This is her Run Birmingham story:
"I volunteer for the Real Junk Food Project here in Birmingham and that got me thinking about my health and wellbeing. I was focusing on what I was eating but I couldn't remember the last time I did any exercise.
"Having four children and three grandchildren, I felt that I was not finding enough time in the day for me, never mind exercising.
"Now that the children and grandchildren are getting older, I decided to make a change and make time for exercise. My main goal was to lose a little bit of weight and tone up my mummy tummy.
"When my grandchildren's school held a 'couch to 5k' programme I decided that this was the goal I needed to work towards! I was so proud of myself for doing it and have been running with Run Birmingham ever since.
"Joining the '5k group' is the best decision I've ever made and I have achieved so much. I've lost weight, I'm fitter now than I've ever been and I have even completed a half marathon. I can now say that I enjoy running. That's something I never thought I would say.
"I keep running because of the other people in my group. They are so inspirational. I've never really been much of a fan of exercise but running as a group is different. It gives you the push you need and you feel better after every single run."
Inspired by Cheryl's story? Find an activity to suit you. Go to https://theaws.co.uk/activities/ and load up which day and type of exercise that suits you and find your nearest group:
---
Here's Sadaf, 41 from Birmingham. Before she came across our running project, Sadaf says she never believed she could become a runner and struggled to run for 30 seconds without feeling out of breath. Here's her running story…
"I was feeling really stressed so I began walking with friends in the neighbourhood as a way to relax and lose weight when we encountered local activator Taz Parvaz at our park.
"We enquired about running as Taz was leading a group and he welcomed us to that running group in an amicable way.

"The fact that it's free helped me decide to come along and pluck up the courage to get involved. After all, I had nothing to lose from trying it out.

"Running has made me feel happier and helped me find friends from my local area. My running group is great. We are comfortable with each other and understand that we all have different running abilities. The social aspect of running is amazing and it is something I look forward to every week.

"The run leaders are there to help and support everyone by motivating and encouraging the group to persevere, helping to change any doubts you had before about running.
"Running makes you fitter, stronger and happier. Your life problems might not go away but running makes you feel better about yourself and your outlook of the world becomes more positive. Well that's how it makes me feel at least!"
Do you want to feel comfortable trying a new activity just like Sadaf? www.theaws.co.uk/activities
---
If you haven't already heard, Stechford arts trail launched in July 2018 and is a new art and walking trail with sites dotted around the East Birmingham neighbourhoods of Stechford, Glebe Farm and North Yardley.
All 10 new public art pieces have been created with the help of residents, community groups and local partners. Along with two existing pieces, Arts In The Yard have formed a free, fun and family-friendly art trail that is best explored on foot.
All artists are Birmingham based with many having links to the trail area. The project is delivered by Arts In The Yard; a grassroots, community-led arts organisation who are part of the city's Local Arts Forum network supported and funded by No. 11 Arts and Birmingham City Council.
This Saturday Stechford Neighbourhood Forum are offering 3 chances to come and get involved, no need to book, just turn up!
Stechford Art Trail – Super Saturday
Saturday 27th October
11.45am – 1.15pm /// St Edburgah's Church /// B33 8PD
Join Arts In The Yard and Run Birmingham for a led walk of the art trail, suitable for adults and families, meet at St Edburgah's Church
1.00pm – 3.00pm /// The Green, outside North Star Pub /// B33 8BD
Stechford Sounds Half Term Jam
Free music, food and activities at Stechford's Bandstand
2.00pm – 3.00pm /// Glebe Farm Library /// B33 9NA
Free Halloween Craft suitable for families
For more information about the event contact Tahir Parvaz on 07903 789665 or email artsintheyard@gmail.com
For other information about local activities please visit our activities page here
---
Whether you're a keen runner or a total newbie who doesn't know where to start, now is the time to tie those laces and hit the pavements and parks – that's what more and more people in Handsworth, Birmingham, are doing every day.
Many of us dread the thought of running on our own. Wouldn't it be a bit boring or would I embarrass myself? By the time we've sorted out our kit, our 'get up and go' has often 'got up and gone'.
However, the people of Handsworth are proving they're made of sterner stuff.
Locals are meeting weekly to run together through the award-winning parks, streets and hills of Handsworth and they're loving it. Here's why the Handsworth group's growing by the day:
Handsworth is beautiful
Handsworth is much misunderstood. Popular perceptions see it as a grey, inner-city suburb with lots of problems but Run Birmingham's, carefully-planned, routes will take you through another world – one where you discover beautiful vistas and scenery.
Clinton Gordon, Run Birmingham activator: "Handsworth Park is a hidden gem. Only 15 minutes by bus from the city centre, the park is 63 acres of landscaped, grass slopes, a large boating lake, ponds, beautiful flower beds, trees and wildlife plus our very own band stand. Our park is definitely not what you expect to find in inner city Birmingham and it is a beautiful place to run on a sunny Sunday morning."
What you don't always hear about is the running friends you meet along the way. From your run club buddies to social media mates, running and friendships go hand in hand. The friends you meet through running might just enrich your life in ways you never imagined.
"Join a running group like Active Parks Handsworth on Sunday mornings and you'll see people are more concerned about whether you're having fun than how fast you can run," advises Tonya, 38, from Birmingham. "My running friends and I push each other to achieve more and have lots of fun! Running friends form a deep bond. To push yourself, you have to dig deep and also be vulnerable so I think this makes your friendships stronger."
Handsworth mum's 'me time'
Taking time out a few times a week to get some fresh air, clear your head and raise your heart rate can leave you with a classic dose of the dreaded 'mummy guilt'.
This should not be the case, Hayley, 36, from Birmingham explains why running is perfect exercise for busy mums: "Being a single mum can be quite lonely at times so the social side of my running group is one of the things I enjoy most. I think running is perfect exercise for mums because you can fit it around family life, it is so flexible, easy and free. Running for me has become 'me time'. Time to get out of the house, breathe some fresh air, forget about cooking meals, chasing after kids and tidying the house."
It is well documented that running is great for reducing stress and improving well-being. It releases endorphins giving a sense of happiness and increasing energy levels.
Fiaz, 34, from Handsworth explains why he runs: "I was new to the city and was finding it hard to settle in and meet new people. I was still looking for work and started feeling isolated and a bit low which is hard for a guy to admit. Joining the '5k group' with Run Birmingham is the best decision I've ever made. I've met loads of new people. I now know and love my local area far more and feel happier and fitter than ever."
You might shed a few pounds
Any exercise is good exercise but when it comes to losing weight, it's hard to beat running. After all, running is one of the most efficient ways to burn calories.
Working towards a goal will always help boost confidence and lend a sense of achievement. That goal may start as getting fitter or losing weight but for those runners who 'get the bug' there's a busy calendar of challenges across the area – from free weekly 5k up to full marathon and beyond.
Birmingham grandmother, Cheryl from Birmingham, said: ""Joining the '5k group' is the best decision I've ever made. I've achieved so much. I've lost weight. I'm fitter now than I've ever been and I have even completed a half marathon. I can now say that I enjoy running. That's something I never thought I would say."
Inspired? Go to https://theaws.co.uk/find-your-nearest/ and load up which day and type of exercise that suits you and find your nearest group. For Run Birmingham activities visit https://www.runbirmingham.com/activities
---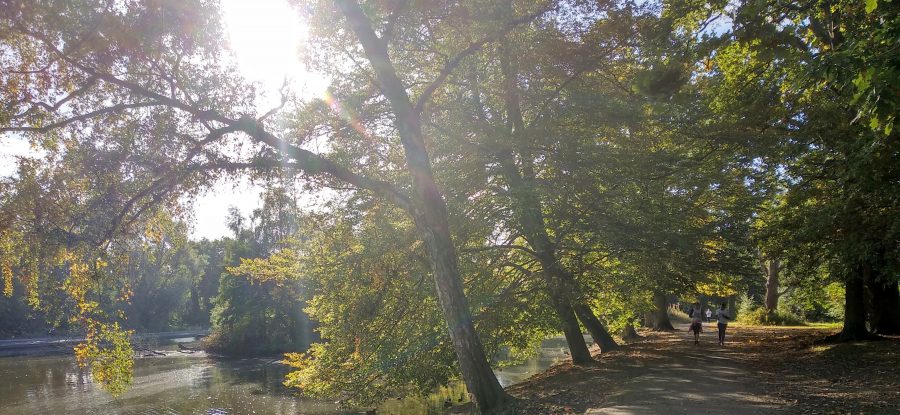 Approximately 1 in 4 people in the UK will experience a mental health problem each year, most commonly anxieties and depression.  Mental Health Day (10th Oct) is about challenging the stigma and discrimmination that can worsen mental health problems and raising awareness of the issues and what we can do about it.  I joined a Run Birmingham group at Trittiford Mill Pool last week and talked to some of the runners and found out how joining a running group can help:
---
A lot of people tell me that they don't have time to do exercise or be active as they are busy at home being Mum. There are ways that you can get your heart rate up though doing everyday tasks.

Pop some music on when you're doing your housework. It's amazing how your favourite songs get your wiggle going, a little bit more effort when vacuuming or dusting and you break out into a little sweat.

Strength exercises are important as well as running. I know it sounds silly but when you're brushing your teeth, get some squats going. That's a good 2-3 minutes where there's not much else you can be doing but this is a great thing to multi-task.


I love music so my tips will often include putting on your favourite tunes. So if you have stairs in your house, why not use the first step and use up, up, down, down for the length of a track? Radio edits are about 3 minutes long, a bit of time for you.

Do you walk the kid's to school? When you're walking anywhere, try swinging your arms a bit like marching. Get the kids involved too, they will think it's fun and you'll be getting your heart rate up a little too.
If you can add in some skipping or funny walking as you go, all the better. Getting fit with laughter is so much easier as it just happens accidently. Plus you'll be working your tummy muscles if you're laughing too. It all helps.

Ideally you want to as an adult do 150 minutes of moderate exercise a week. You can build this up
with 10 minute slots so if you look at that it's much more manageable.
If you need inspiration and support you can also join one of our group sessions, from Zumba to cycling, there's a lot you can do and it's all free! Visit www.theaws.co.uk/activities


---
"Running is free, you can do it anywhere and it can do wonders for your physical and mental health. There are lots of wonderful places to run in Birmingham, including our beautiful parks and the canal network."
"RUN Birmingham will cater for everyone, from the nervous novice through to more serious runners who want to participate in major events. I have no doubt this initiative will build on the success of the Morrisons Great Birmingham Run and the Great Birmingham 10k."
"Great team spirit, needed motivation, feel fab after, lovely people!! It's just fab"
---
On Sunday 11th March 2018 we are holding a This Girl Can 5k Walk, Jog & Run at Cannon Hill Park. (more…)
---