Following a continuous review of the Coronavirus (COVID-19) threat, The Active Wellbeing Society has made the difficult decision to cancel ALL activities from Friday 20th March. This decision has been made in consideration of our members, their friends, families and also the wider community.
Our core work focuses on supporting people to feel more active and connected in their communities. During this period of self-isolation and social distancing we won't be able to physically bring people together to participate in activities, but we still think it's important that we all remain active and connected.
There are lots of ways that people can keep themselves busy while in isolation, including through cooking, reading, online learning, watching films and doing light exercises in your home or garden.
In the coming weeks we'll be broadcasting live activities that you can join in with right from your own home. These will include some of our regular sessions like Tai Chi and Zumba and also some new activities that we can try together.
We'll be broadcasting live from our Facebook page every day, and we'll be able to signpost you to other resources to help support your health and wellbeing. These activities and resources will be free to access and can be found here on our website, Facebook, YouTube, Instagram and Twitter.
First and foremost, please find official government guidance around dealing with Corona Virus here.
The Active Wellbeing Society: Activity Timetable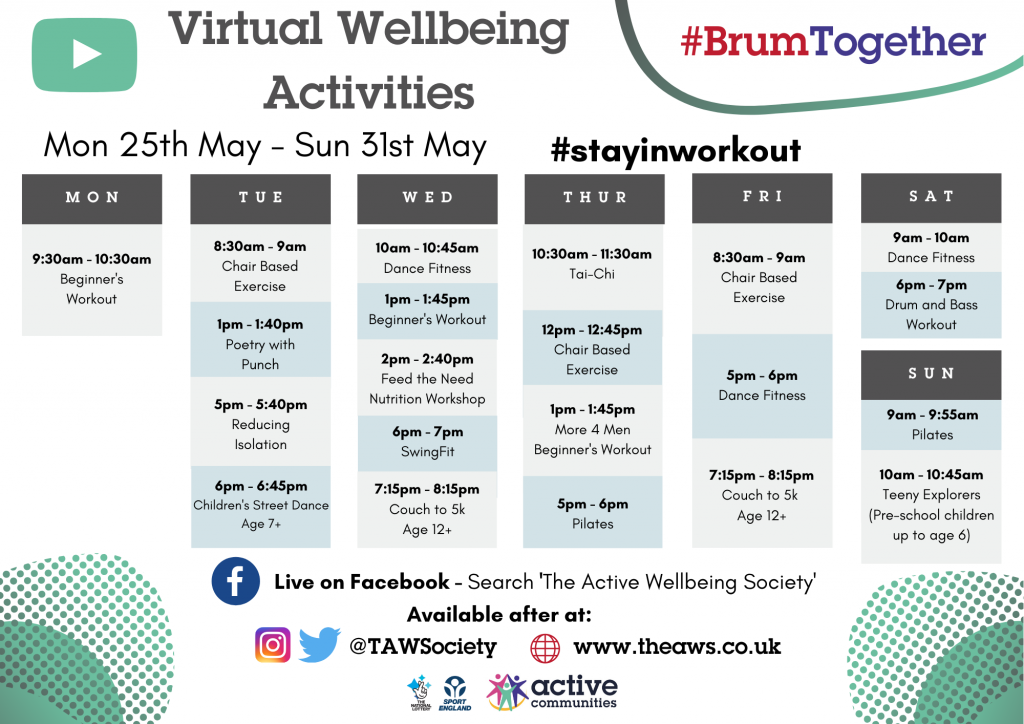 It is vitally important for your mental health and general wellbeing to keep active, even in isolation! We are trying to live stream as many of our activities as we can via our Facebook page. Make sure to follow the page to receive notifications so that you can join in with every one of our sessions!
Home workouts for any age group.
Aside from our own live streamed activities, here are some online workouts from our friends at Sport England and This Girl Can
Sport England: Join The Movement