Our Legal Basis for processing your data
We will primarily use explicit consent as our legal basis for processing your data under the General Data Protection Regulation (GDPR).  This is because we typically ask for some special data such as your ethnicity.
9(2) (a) – Explicit consent of the data subject, unless reliance on consent is prohibited by EU or Member State law
We may also use other legal basis for processing data in line with the GDPR.
What information we collect about you?
Personal Data including special data

We need to collect data that will allow us to identify you as an individual on our single customer view database. The amount of personal data we collect will depend upon the TAWS activity or event you are participating in.
The following table shows the type of data we will ask to collect from you depending on which activity or event you are participating in, and the main data collection facility used.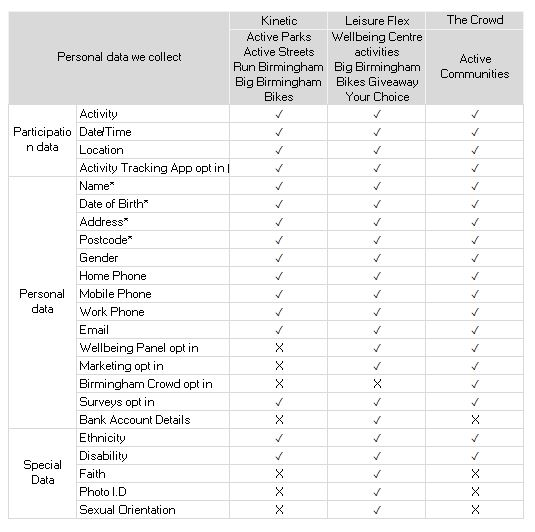 Why we collect your personal information
We collect personal data including special data to:
help us to fulfil any contract we hold with you
provide better services to our customers and the public in Birmingham in-order to deliver community benefit
administer a central single customer view of activities provided by TAWS
administer membership records
promote public health and physical activity
monitor and evaluate the effectiveness of our programmes
maintain our accounts and records
prevent fraud and misuse of public funds
report to our funders on our charitable objectives
facilitate research and insight
target and plan the provision of services
We collect special data to;
allow us to target our efforts to tackle inequality and help the most disadvantaged in communities e.g. protected characteristics under the Equality Act 2010
How your information will be used
The data we collect data about you is stored in a single database called the single customer view (SCV). This means that we can link all the activities or events you have participated in.
Subject to the appropriate consent we will:
inform you about TAWS news and updates that we think you might find interesting
inform you about free events and activities we think you might be interested in
send you marketing about our paid for products and services we think you might be interested in
give you the opportunity to feedback to us such using, for example, on-line surveys
use computer tools and techniques to analyse trends, patterns and profile data to gain insight into participation
For the Big Birmingham Crowd and subject to appropriate consent we will:
manage and facilitate the exchange of contact details between participants in the Big Birmingham Crowd.
Sharing data
We will only share anonymous or aggregated information about you with our partner organisations and funders.
We share personal and special information with our 3rd party service providers who perform services and function at our direction and on our behalf. This includes our technology suppliers or research partners who are contracted as data processors to help provide data management services such as data capture, data warehousing, engagement tools and research, evaluation and statistical analytics.
We and our partners will hold all information in confidence and comply with all our responsibilities under the General Data Protection Regulation and Data Protection Act.
The organisations we currently share data with include:
IT Provider and Data Processors: Torque 2, Kinetic Insight Pro, Omnico, Capita, Aquilla, Sage, Microsoft, Fabric IT
Partners and / or grant funding providers: Birmingham City Council, Saheli, Sport England, Solihull Metropolitan Borough Council, West Midlands Combined Authority, Cycling UK, Canal and River Trust
Service commissioners: Our Health Partnership, Bordesley East Primary Care Network, Birmingham East Central Primary Care Network
Data Retention
We will keep this information during the time of your involvement with our services and up to a period of 3 years afterwards.
Marketing
We will ask you if you are happy to receive marketing communications directly from us. You can also choose at any time to opt out of this by contacting us.
Access to your information
You have the right in law to request access to a copy of your personal data. You can do this by submitting a subject access request to us. Please do this via the contact detail provided.
You have the right to request that TAWS stop processing your personal data in relation to any service. However, if this request is approved this may cause delays or prevent us delivering a service to you.
You have the right to lodge a complaint to the Information Commissioners office (https://ico.org.uk/)
Further information & any changes
You can find a copy of this privacy statement on our website (www.theaws.org) where you can also find more detailed information and contact details.
You can find out more about your rights or complain to the Information Commissioners Office at ico.org.uk.
Consent
By signing up, you agree to our terms of privacy.
You have a right to withdraw your full or partial consent at any time or to change your preferences. You can do this by contacting us using the contact details below telling us the action you would like us to take. We will regularly review our privacy notice so that you can see how we use your data and what your options are.
This website uses Google Analytics to help analyze how users use the site. The tool uses "cookies," which are text files placed on your computer, to collect standard Internet log information and visitor behavior information in an anonymous form. The information generated by the cookie about your use of the website (including IP address) is transmitted to Google. This information is then used to evaluate visitors' use of the website and to compile statistical reports on website activity for 'Be Active Birmingham'.
Our website
We will never (and will not allow any third party to) use the statistical analytics tool to track or to collect any Personally Identifiable Information (PII) of visitors to our site. Google will not associate your IP address with any other data held by Google. Neither we nor Google will link, or seek to link, an IP address with the identity of a computer user. We will not associate any data gathered from this site with any Personally Identifiable Information from any source, unless you explicitly submit that information via a fill-in form on our website.
The Active Wellbeing Society is a charitable community benefit society (Reg. No. 7595)
Manor House,
Hay Hall Business Park,
Redfern Road,
Tyseley,
Birmingham,
B11 2BE.