Social Prescribers at The Active Wellbeing Society (TAWS) have been supporting the Covid-19 vaccine rollout at GP surgeries across the city. The team are supporting in a number of ways, such as welcoming patients as they arrive at practices, carrying out temperature checks, and helping people to navigate their way through the vaccine clinic.  Where possible, they are also providing information on services that TAWS and partners can offer.
Leila, one of the Social Prescribing Link Workers at TAWS, who has been supporting vaccinations at GP surgeries explained,
'we've been guiding patients to come into the surgery one-by-one, making sure they're comfortable and able to sit down, and directing them into the clinical rooms.' 
Social Prescribers help monitor patients following the vaccine, prior to leaving the clinic, advise and help them fill out their vaccine cards, and arrange transport to and from the surgery.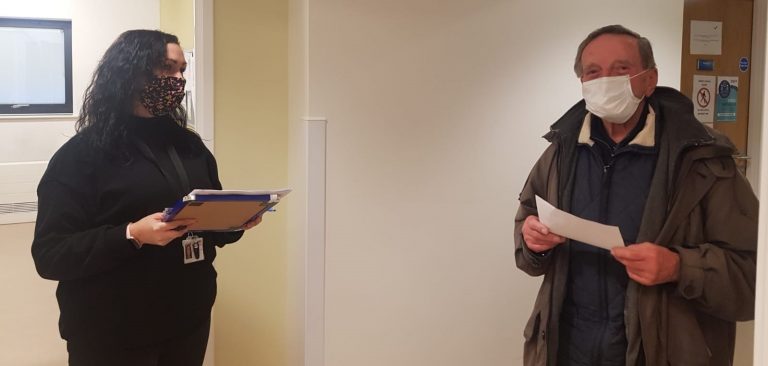 Importantly, the Link Workers are a friendly face who can help make the experience as smooth as possible by greeting patients, having a chat, and putting them at ease. Leila explained 'It's really important to make them feel comfortable, to make them feel like they've been supported by their surgery and all the staff that are in there.'
Many of the patients currently being vaccinated are elderly and vulnerable and have been shielding within their homes for the last year, so the team have been doing what they can to make the experience something to be less anxious about.  Leila explained that some of the patients feel a bit scared as they don't know what to expect. On top of that, 'some of the patients have been at home since March.  For some of them, it's one of the only times they've come out, and many are also frail'.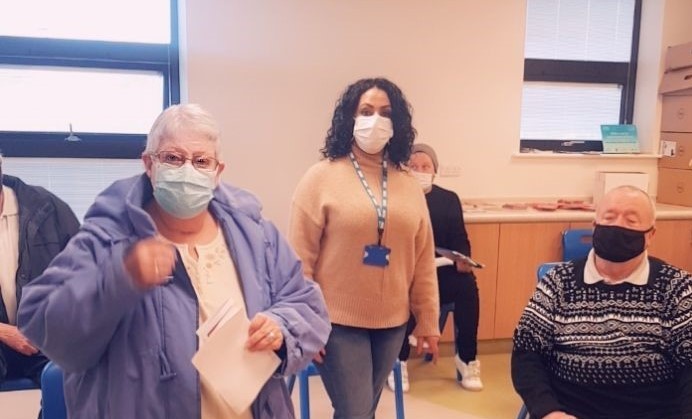 The vaccinations have been and well-organised, and patients have told us that having that extra human contact and support has made the experience really positive.
Ann Berry, a patient who is being supported by a member of the Social Prescribing team, reflected that,
'The vaccination clinic at Woodgate Valley Health Centre was extremely well organised, and there was no queue to get in.  The stewards were very helpful and kind, and all of them asked how we were, while they were showing us which way to go. We were not treated as if we were anonymous and everything was explained to us, including why we needed to wait for 15 minutes after the vaccination before going home.
I was dubious before going to the clinic as I didn't know what the experience would be like, however, I have to say it was very positive and I would urge others to get vaccinated.'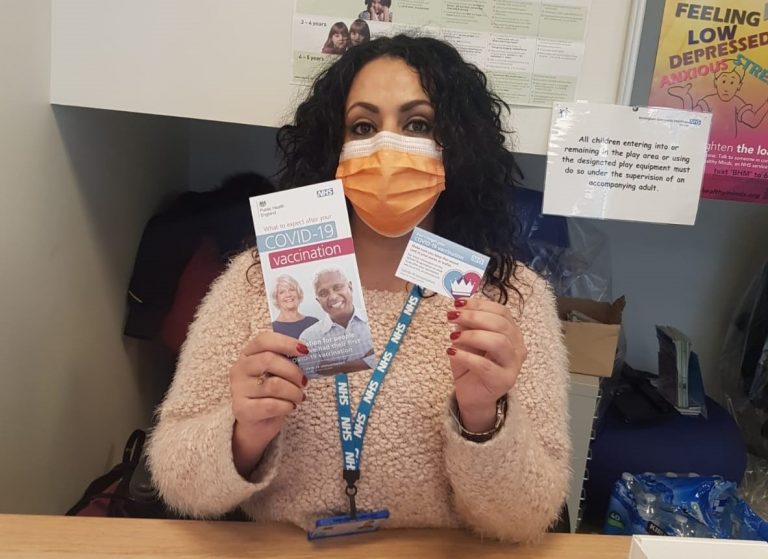 Social Prescribers have been supporting people throughout the pandemic in a range of ways including providing telephone support and befriending, arranging food deliveries and help with shopping, as well as signposting to online Virtual Wellbeing activities. They have also been running online groups for patients, connecting them to each other at what has been an incredibly isolating time for many.
Michelle Howard, the Director of Healthy Communities, explained that supporting the vaccine rollout has been part of this wider effort to help meet people's needs:
'At TAWS, we have been committed to supporting people through Covid-19 and we are delighted to be able to work with our health colleagues as part of the vaccine rollout.  We remain focused on working with partners through our food distribution and clothing support, telephone advice and befriending, and now as part of the vaccine rollout to stay with our communities and patients throughout the pandemic. We see this as another step in that journey with our citizens'
Social Prescribing is a referral programme that provides people with alternative ways of addressing their own emotional and mental health with personalised care that starts in and around health centres. Click here to read more about Social Prescribing.