I am the lead for The Active Wellbeing Society's Big Feed Community Cafés. With the help of volunteers, we run 6 cafés across the city, as well as a mobile catering van that is used to provide hot meals around Birmingham. This week, the van was at George Road Baptist Church in Erdington, offering hot food to those who were waiting in line for the local foodbanks, coordinated by Kingstanding Regeneration Trust.
We arrived just before noon when the foodbank opened – people had been queuing outside since staff first arrived at 10am. It had been raining all morning and didn't let up for the whole time we were there. Families, including children, were queuing outside in the wet weather, waiting for their turn to go in. Most people said they had been waiting for at least 2 hours. No one wanted to take shelter from the weather – too concerned about losing their place in the queue. Covid compliance means that everything takes a lot longer.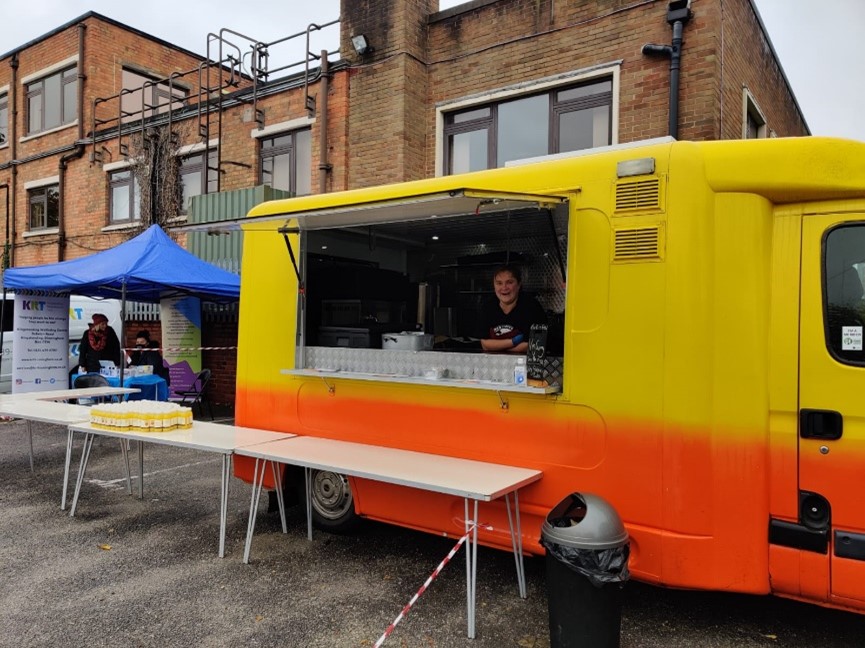 After 4 hours we had given out over 140 meals, to 66 different families.
Those we spoke to talked about how far they had travelled to come and collect the food, and once they came out of the foodbank, wet-through and with full bags, they would have to make the long journey home again in the rain. Some, the few who had money left to do so, were able to get taxis while the majority of people set off on foot through the bad weather.
It struck me at one point, how familiar this scene was to me personally. I grew up in Russia in the 1980s when food was scarce for most Russians. A standard and regular part of my childhood was spent standing in a queue with my mother, waiting to exchange tickets we were allocated for staples like soap, flour and other food and household items. Standing in line, in bad weather, waiting for supplies that would never be enough, was a core ingredient of my childhood. I remember how dehumanising and debilitating living life like this was, and yet how grateful we were for anything we were given. It was a bleak time in the history of my country and was commonplace right across the Soviet States at that time.
Coming to England for work 20 years ago I saw a different reality, where it was normal for families and individuals to have access to enough food and other essentials. The event this week in Erdington was the first time I can honestly say that England is now mirroring my childhood experiences in Russia.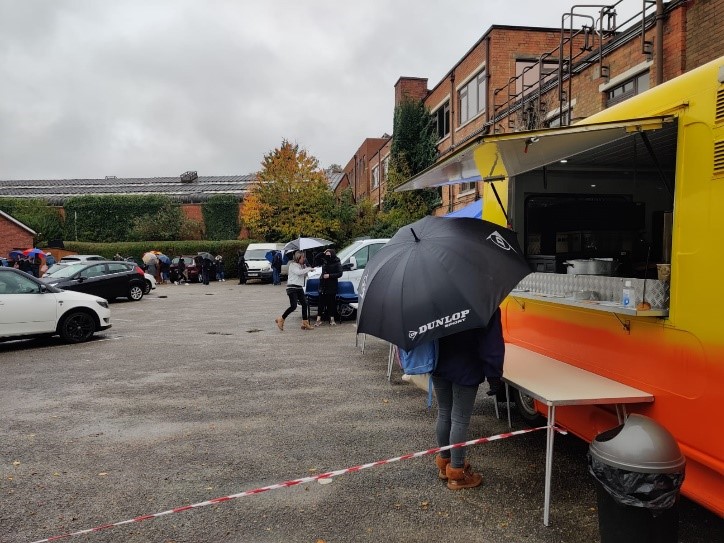 I am proud to be part of an organisation that works with others, to try to provide some solutions to the growing hunger and food poverty that so many people in this country are now experiencing. I have seen the situation here worsen in the last 10 years, but it is nothing compared to what I am seeing now. It is a privilege to be able to provide hot, nourishing meals for those who need it this week. We are using food that would otherwise end up in landfill, reducing waste and carbon emissions as well as supporting people to access hot, nutritious food.
We will continue to work hard to meet the need we are seeing in our most deprived and vulnerable communities, and we will continue to work tirelessly with partners, colleagues and volunteers through the Food Justice Network, to try and address and tackle some of the causes of food poverty. But this is a systemic and countrywide issue now and needs addressing by more than just me, my team, or the organisation I work for. 
Join us in our work in the Birmingham Food Justice Network. Help us to address the need on the ground, and campaign for the kind of changes we need to see in society to ensure that there aren't generations of young children in this country who will have the childhood I did.
Birmingham's Food Justice Network
The Food Justice Network is a group of over 120 organisations and individuals working for change. By working collaboratively we aim to achieve a secure and fair food supply for all citizens, ensuring that people in Birmingham have enough to eat and are able to enjoy a healthy, balanced diet. We are building on the work of foodbanks and other partners involved in #BrumTogether to look at ways of addressing food inequality and insecurity, meeting regularly on zoom to discuss and action ideas in a range of areas. New members are welcome to join us – check out what we're up to on link.tree/FoodJusticeNetwork or email:
[email protected]