During Mental Health Awareness Week this year, the theme is 'nature'. The Mental Health Foundation has found that our relationship with nature – the ways we notice, think about, and appreciate our natural surroundings – is a critical factor in supporting good mental health. After a year in which most of us spent more time than ever within the same indoor space, their research found that more than half of UK adults say that being close to nature improves their mental health.  
Although it can't solve all our problems, spending time in nature can help put things in perspective, relieve pressure and bring small joys into our daily lives. When we spend time in nature, the real benefit comes when we try and form a connection with the world around us. You can do this by taking a moment to notice, see, hear, and feel your surroundings.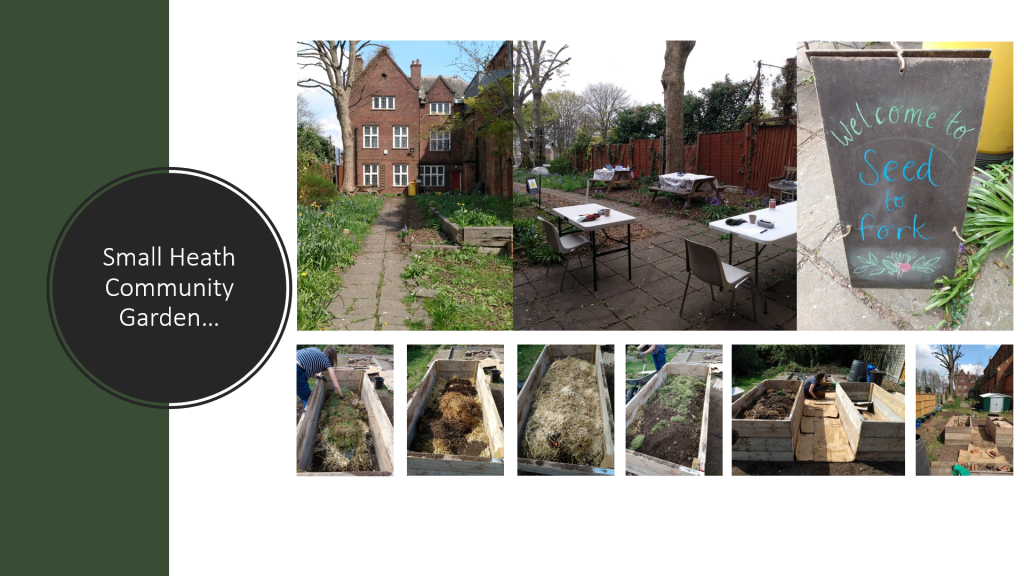 Currently, our Social Prescribing Link Workers and the Community Food team are working together to run a 'Seed to Fork' project. Link workers, Leila Yafai and Junior Christie, led by Community Food Project Lead Vicky Hemming, are holding weekly growing sessions using the outdoor space at one of our community cafes at All Saints Church in Small Heath. The Church is kindly allowing the team to use the garden, with the aim of delivering wellbeing benefits to the community. Since January, Vicky and a team of volunteers have been busy building raised beds and clearing areas ready for planting. Patients can meet at Small Heath Medical Practice and walk together to the site, where they can learn about and take part in growing activities and spend time in nature within a safe space. Afterwards, they can enjoy a freshly cooked meal prepared in the community cafe.
The idea of 'Seed to Fork' is that people can be involved in every step of the journey from planting to preparing the food they have grown. Participants can sow the seeds, watch the plants grow, harvest the crop, help prepare a meal, and sit down and enjoy it with others. Leila explained that the growing group is a therapeutic session which is all about helping patients to 'meet other people, bring them out of isolation, and deal with their loneliness, anxiety and mental health.' 
One participant of the walking and growing group, who has a learning disability, mental health condition, and is overweight, was initially very reluctant to join as he wasn't interested in gardening. But since getting stuck in, he's really enjoyed potting beetroot and peas, and digging up potatoes, as well as learning about planting, recycling and composting.
We have also had support from several volunteers who are keen and knowledgeable gardeners. One volunteer told us that she enjoys working in the garden because it gave her the chance to meet and speak to new people. Due to lockdown restrictions, she has been spending a lot of time indoors and only has her partner to speak to, as she struggled to meet new people after moving to Birmingham during the pandemic.
Whether it's while walking or gardening, spending time in nature brings lots of benefits. Leila explained that 'The sessions greatly help patients physical and mental wellbeing as it provides a chance to socialise and take part in an activity that is enjoyable as well as educational'. It also gives people the chance to get out of the house and access other opportunities and information, such as volunteering, advice and referrals.
The garden is a wonderful safe space, and we are looking forward to working with other local people and groups to ensure it is used and enjoyed by the local community. We also hope that the planting will provide some fresh produce for our cooks to use in the community cafe!
Stories are a powerful way for us to make a difference and inspire action. We would love to hear about your relationship with nature, how the outside environment has helped you or a loved one, or your favourite green space. Tell us about your experiences in and around nature using this form.