With public transport services being reduced and social distancing rules in force, getting from A to B can be tricky, especially if you've still got to get to and from work.
Lots of key workers are facing this challenge so, we've been loaning bicycles from our Big Birmingham Bikes and Bike Project Loan schemes to them over the last few weeks to help them out.
Big Birmingham Bikes and The Bike Project usually run a range of sessions such as Learn to Ride, Led Ride, Bikeability, and Inclusive Cycling for people with disabilities, as well as offering bike loans for children, adults, and families. But as these activities can't go ahead at the moment, the bikes have been made available for key workers.
All in all, there are 82 bikes out on loan to frontline workers whose work is critical to the current COVID-19 crisis. It's all part of the #BrumTogether campaign, which is being run by more than 60 charities, groups and organisations across Birmingham, including Birmingham City Council, FareShare and Brum Baby Bank. (Full the full list of partners, visit this page – https://theaws.co.uk/partners/)
Key worker, Karen, loves using her bike…
One of the bike recipients is Karen, a nurse at Good Hope Hospital, who works on the Coronavirus Ward. She's had to move out of her home, and into temporary accommodation, to safeguard her mum and daughter during the lockdown.
With no car parking available at her new accommodation or the Hospital, she has been using the bike to travel into work each day. Having one of the loan bikes has been a real lifeline for Karen, it's also reminded her just how great cycling can be too.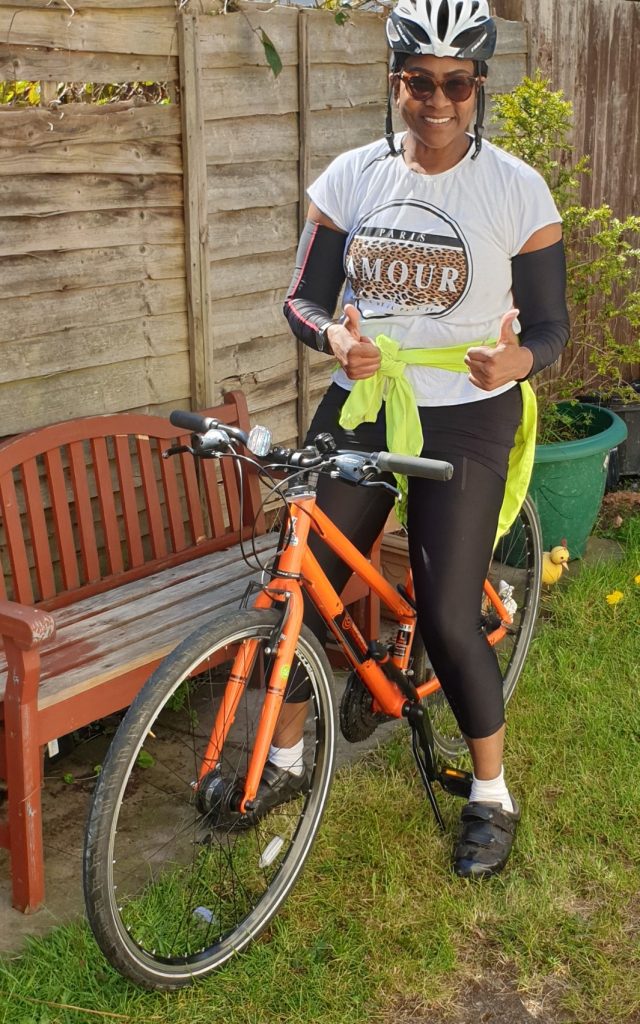 "I'm really loving the bike, I meet so many like-minded people every single day. Cycling to and from work has been fantastic, it feels great," she said.
And so does Birmingham teacher, Mohammed….
He told us: "I would like to say what an amazing scheme this is for the wellbeing of people like me. I've been able to cycle to work and haven't needed to take my car."
How else we're helping residents
We were also given £500 worth of free bike locks from Halfords, which we've donated to residents. Joe Taylor, Halfords' Product Sales Manager said: "I heard about #BrumTogether from the University Hospitals Birmingham Trust and the Queen Elizabeth Hospital and thought it sounded like a fantastic initiative."
Unfortunately, the bike loan scheme is now at full capacity, but there are lots of other ways we are helping individuals and communities through the #BrumTogether campaign right now. For details, visit this page – https://theaws.co.uk/coronavirus/
More about our two bike schemes
In the meantime, for more details about our Big Birmingham Bikes and Big Bike Project schemes, which are designed to make it easier for people to get on their bikes, head over to our Cycling section.