Aston University has been a key part of the #BrumTogether campaign. Since May, Aston University's Student Union has housed the food distribution centre which has packed and delivered over 50,000 food parcels. Aston have also organised 250 staff and student volunteers to help pack and deliver food parcels to those in need, all across the city.
Back in March, as the coronavirus crisis was growing and lockdown measures were imposed, Christina Matthews, Head of International Student Services at Aston University, started a phone call campaign to check-in on their international students. They came across one student who was unwell and unable to buy food because she was self-isolating. Concerned that there may be more of their students in this situation, they put a call out for volunteers who could help deliver food supplies. They found there wasn't a great need for support among students, but the volunteers were keen to help the wider Birmingham communities. Aston University joined the #BrumTogether network of partners and offered the use of a fantastic open-plan space for the food distribution centre. The new facilities make sorting the food while following social distancing guidelines easier, and the grounds offer lots of green spaces for the volunteers to enjoy a well-earned break.
Some of the volunteers have looked back on why they got involved, the benefits of volunteering, and what they got out of the experience:
Sense of duty and wanting to help others
Many of the volunteers explained that they felt a sense of duty and responsibility to help those in need within the community. Volunteers described the pandemic as an exceptionally difficult time which has motivated them to help others.
Basma A Elbakary, PhD student in Pharmacy
'I decided to volunteer because I felt, as a healthy young adult, I can do a lot of good in my community. The coronavirus pandemic has meant that a lot of people have no means of getting food which, I believe, is a basic human right.'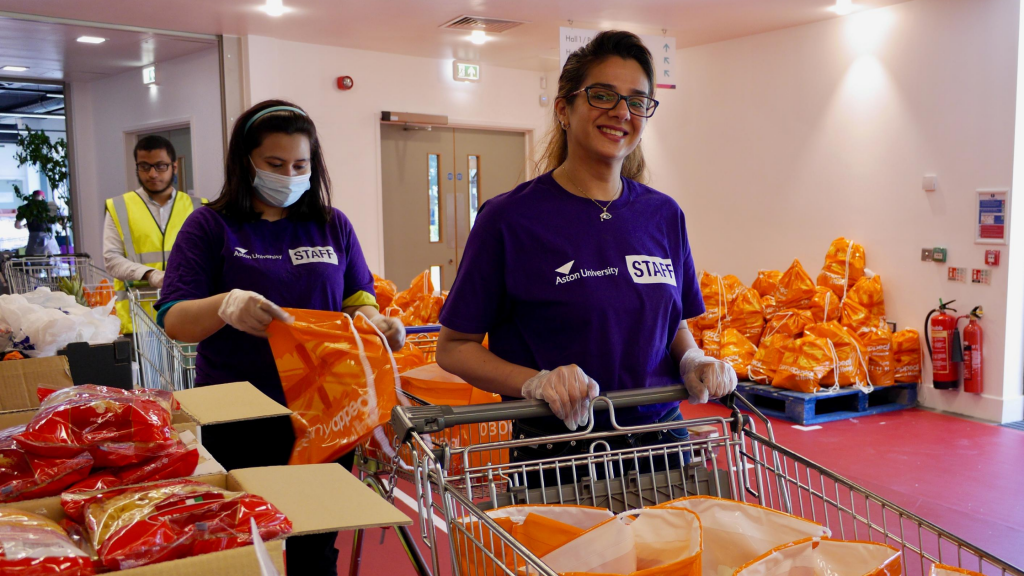 Becoming part of a community
As well as helping people in need, volunteers have also become part of a community of local charities, community organisations and individuals working together to respond to the crisis. This sense of solidarity has been an important way of socialising and connecting with others during lockdown.
Basma A Elbakary, PhD student in Pharmacy
'I quite like the community feeling you get from volunteering. I mean why wouldn't I get involved with a place that is very accepting and diverse, which does a lot of good to many communities within Birmingham.'
Jumoke Ademola, MBA Student
'I wanted to volunteer because I thought it was a good way to be part of the community that I live in.'
Volunteering is a great opportunity to make new friends, gain skills and grow in confidence. Much like the community spirit underpinning the #BrumTogether campaign, volunteers have enjoyed meeting and working with a range of different people across the city.
Carly Bradshaw, Retail & Development Manager, Nourish @Aston
'I am enthused by all of the likeminded people that I am meeting, both in person and virtually.'
Post Grad Student
'It was lovely to work with such a great team of people all working to help the community. It was also great to chat with some amazing people and learn more about them while packing the bags.'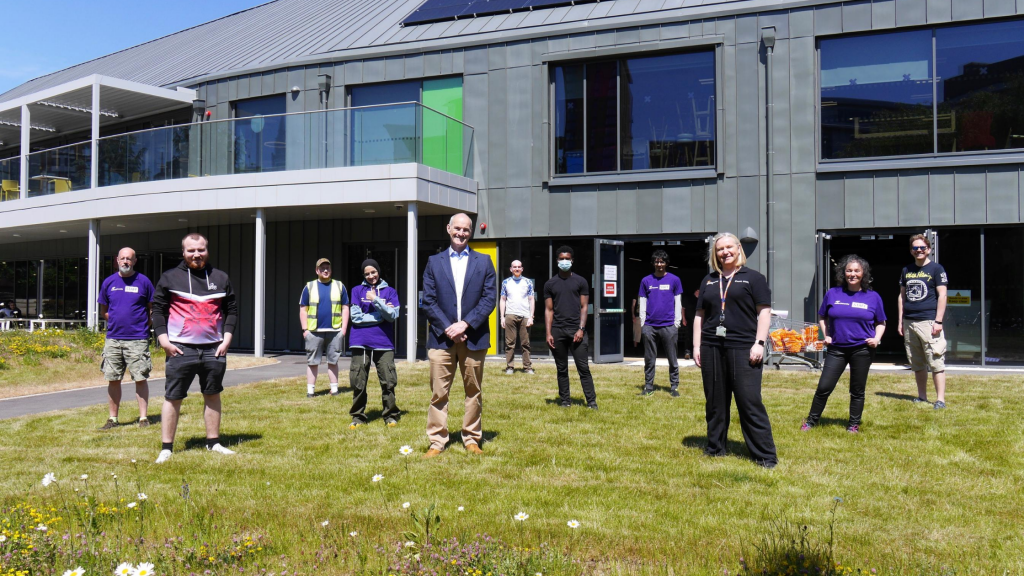 Research has found that volunteering can be beneficial for your mental health. It can help provide a welcome distraction, a sense of routine, purpose, and social interaction.
Post Grad Student
'I decided to volunteer in the hope of not only helping the community but also for my own mental wellbeing during a lonely time. This experience has really helped my mental health. It has allowed me to get out and socialise (at a distance) with the other volunteers.'
Making meaningful connections
Volunteers have been preparing and delivering essential supplies of food and toiletries, but they have also been providing an important source of human contact and social interaction. Many of the volunteers told us that stopping for a chat was one of the most fulfilling aspects of volunteering.
Karen Newman-Brown, IT Admin & Office Manager in Digital Services
'The most rewarding experience is the interaction with those in need. Some of the people we visit just want to chat because they have not seen or spoken to anyone for a long time. I am happy to talk for as long as they need to. The sense of community lifts my heart and makes it all worthwhile.'
Carly Bradshaw, Retail & Development Manager, Nourish @Aston
'It's very humbling but also incredibly sad to think that some people we are delivering to may not have had any human contact from one week to the next. The pandemic has been incredibly isolating for so many.'
How to get involved:
If you would like to volunteer with #BrumTogether, visit www.theaws.co.uk/support. To find out more about the experience of volunteers, check out the 'Meet the Volunteers' series on our stories page.