Local artists and organisations have created a range of activities and resources that can help improve mindfulness and wellbeing while social distancing. Take a look at the fun and accessible craft, storytelling, and poetry tasks that you can get involved with:
Leaf Creative Arts:
Leaf Creative Arts have adapted their usual work to create and share a range of ideas, videos, and activities which people can try at home.
In response to the current situation, they regularly share a range of ideas and videos on their Facebook page, which can help improve wellbeing, creativity and self-confidence. Their online content includes writing challenges, how to make positive placards, how to do mindful drawing, as well as a Charlston dance tutorial. The group also encourage people to send in their creations.
For the last three weeks, Leaf Creative Arts has been running an 'Add to the Story' challenge in which the outcome of the story is decided by a different person each week. A member of the Leaf Creative Arts team started by sharing a video with the opening of a story that ends on a cliff-hanger… People can get involved by writing their own section of the story. The next week, Leaf Creative Arts will read out one person's reply, which then becomes the next part of the story, and so on.
There is only one rule – you must leave a little bit at the end of your part of the story so that the next person can add to it.
Find out what has been written so far and have a go at writing your own section of the story here.
Leaf Creative Arts have also been encouraging people to create 'positive post' to send to people who don't have access to the internet. This is a lovely creative task that can brighten up someone else's day. Check out their video which explains the following simple steps:
Think of someone who does not have access to the internet
Think of some of your favourite quotes (or find some new ones). These could be poetry, lyrics or proverbs. You can look them up online, flick through some books, or create your own words of wisdom.
Write the quotes down on a piece of paper
You can roll them into little scrolls and fasten with string accompanied by a card or note
Pop them in a jiffy envelope, add the address and post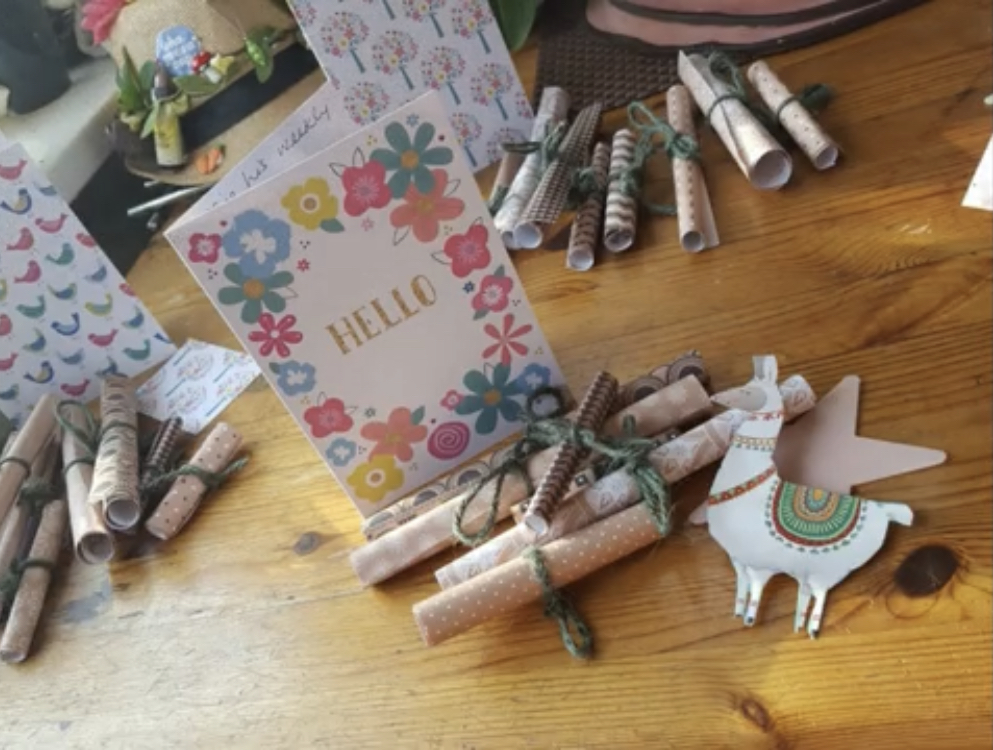 For more inspiration and to find out more about these creative ideas visit: https://www.facebook.com/leafcreativearts/
Lockdown Write Up
Alan (Kurly) McGeachie is a shortlisted Birmingham Poet Laureate and Hip-Hop artist who visits schools, youth groups and community centres to deliver fun poetry workshops. These sessions are designed to improve student's literacy and help children to read, write and perform with confidence.
As Kurly can't deliver the workshops in person at the moment, he has created the 'Lockdown Write Up' project which students can access online. He has made video tutorials and a 'Lockdown Poetry and Creative' resource pack which is full of creative ideas and tasks for Key Stage 2 and early Key Stage 3 students. The materials are designed to help children write about their lockdown experiences using Hip-Hop, poetry and creative writing. The tasks encourage young people to explore their thoughts, feelings, and voice.
Check out the video which explains the creative writing tasks and pack here:
The resource pack can be printed out, or activities can be copied onto plain paper.
Kurly knows that getting started can be tricky, so he has created lots of different starting points and prompts for writing different types of poems, such as acrostic, personification, and rhyming poems.
Watch the video about how to create an acronym poem here:
Here are some more ideas to get you started:
• List things you've done or observed during your time in lockdown, even the boring things like brushing your teeth!
• List what things have you have found different, new, old, fun, scary, and weird
• What things you are looking forward to doing in the near future?
• What have missed most during lockdown?
• What have you enjoyed most?
• Who have you been listening or speaking to and how? Have you been Face Timing? Texting? Phone calls? What have the conversations been about?
• Keep a journal of your thoughts, feelings and experiences
• Find extra words on thesaurus.com (the more you have the easier it is to think of ideas)
• Find rhyming words on rhymezone.com
• Take photos or keep a video journal, these will help inspire ideas to write about!
• Be inspired by other people
Download the resource pack here: https://memorhyme.ecwid.com/'Lock-Down-Write-Up'-Poetry-Tasks-KS2-Early-KS3-p191343349.
Virtual Wellbeing:
For live and on-demand videos, check out our virtual activity finder which has a range of resources that can help people of all ages keep their minds and bodies active.