Stories have always been shared over a meal. But food also tells a story. It can transport you to another time, another country, another culture, without you even having to leave the plate in front of you. Food is deeply rooted in our histories and cultures and has evolved and adapted over time. Sharing recipes, cooking, and eating together allows us to connect with one another and develop our understanding of different places, cultures, and traditions.
Virtual Wellbeing Cook-a-long Videos
The Big Feed project recorded weekly cook-a-long videos celebrating Caribbean food during Black History Month. Even though Black History Month is now over, the importance of showcasing Black history and culture is year-round.
Recorded live at Community Cafés at All Saint's Church in Small heath, and the City Farm in Balsall Heath, the recipes include a delicious Saltfish and ackee dish with dumplings, rice and peas with marinated chicken and corned beef with rice. Each dish was prepared using surplus produce provided by our partners at Incredible Surplus (formerly The Real Junk Food Project Brum), with vegan and vegetarian options available.
You can watch the videos and cook along with Christine who talks through each of the recipes, explaining where they come from and the different ingredients used, 'Saltfish & Ackee – that's why mum and dad would say because I'm from Montserrat. But Jamaicans would call it ackee & saltfish…it's such a comforting and rich dish…the rice, peas, and chicken would be more or less a Sunday dinner. The stewed beans is a vegan dish…it would normally be eaten on Saturdays and is very nutritious, high in fibre and protein'
The meals prepared during the videos were shared with members of the community – making sure no food goes to waste! The videos have now been viewed over 3000 times. They offer simple, step-by-step guidance on how to create delicious and nutritious food. But at the heart, Christine says how the videos 'felt like a celebration of Caribbean culture'.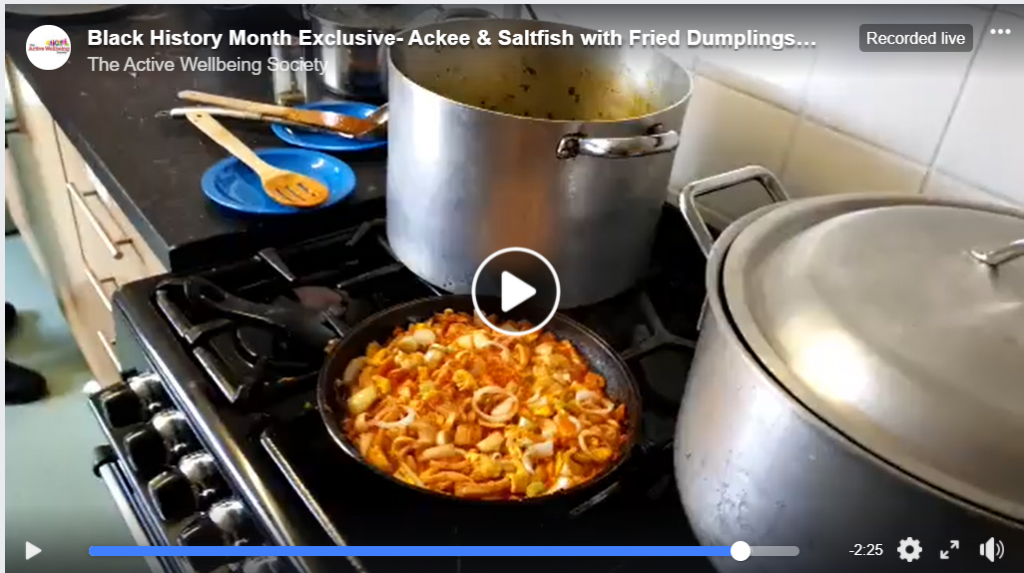 People from different cultures eat different foods. The ingredients, methods of preparation, preservation techniques, and types of food eaten vary across cultures. Food is an expression of cultural identity, we grow up eating the food of our heritage and where we live, it becomes part of who we are. It can be nostalgic and provide important connections to where we come from. The flavours and aromas of different foods can transport us to times and places in our lives – like childhood memories. Christine reflects upon the times she visited family:
'Fresh food is available all the time in the Caribbean, you just go to the garden and pick it. When I went to the Caribbean with my parents and we stayed with my auntie, she had two mango trees – I lived off them!'
Food can spark memories and emotions, and frame experiences and significant events throughout our lives.
Sharing stories with food & community
Cooking and eating together are great ways to build connections with people, culture, and history, unifying us across generations and cultures.  Mealtimes have traditionally been those time when whole communities, villages or families come together. We can be so busy in our lives that we can forget the importance of doing this. Especially at the moment when eating together has become even more difficult because of Covid-19. Eating with others increases our wellbeing in a number of ways – from health and diet to social and relational benefits. 'Cooking is fun, and the best part if when you sit down and eat it with people' adds Christine. It provides an opportunity to share stories, recipes, and meal ideas, establish connections and build understanding about one another.
If you have a story or recipe you'd like to share, we'd love to hear from you!
If you missed the livestream Virtual Wellbeing cook-a-long videos that have happened so far, you can watch them on our Facebook page or by using the video finder on our website. Also, check out our other Virtual Wellbeing videos showcasing Black history and culture, including Afro Beats dance classes and a series of black heritage walks with the Black Heritage Walks Network.