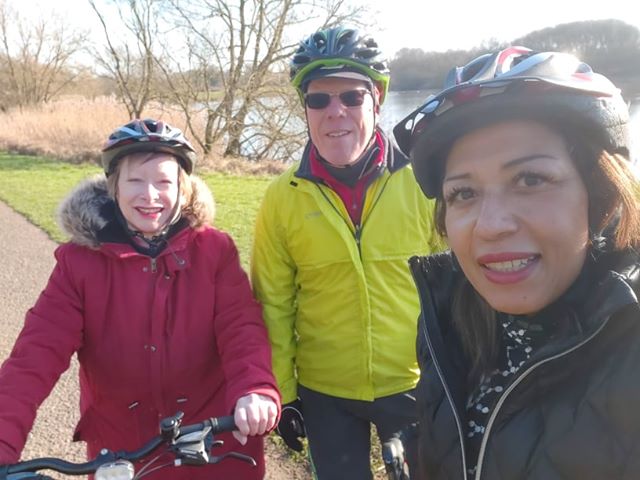 Last month, in partnership with Solihull Council and as part of the Active Communities initiative, we launched a new Bike Hub based at North Solihull Sports Centre. Alongside this, Big Bike Project launched new activities including Learn to Ride sessions and Led Rides, enabling residents of North Solihull to start, or progress on their cycling journey with the help of friendly trained instructors and with bikes and helmets available to use at the sessions, free of charge.
Soraya attended the Bike Hub Launch, and has since come along to a Thursday afternoon Learn to Ride session to develop her cycling skills. After attending the session she has taken the time to share her story, wanting to encourage others to also get involved with The Active Wellbeing Society and Big Bike Project.
Soraya tells us her new motto is:
'Try something new & make time for you
Get some fresh air & you won't have a care
Loving the sun & having fun'
She also gave us the following feedback after attending the session:
Getting outdoors has been paramount in helping me feel better and yesterday was the 2nd time in 44 years I have been on a bike. It's true you don't forget!! Thanks to #theactivewellbeingsociety who have set up this 'learn to ride' bike scheme. Myself and Vanessa actually managed 5k and I was actually racing at the end. I absolutely loved riding through the park which will improve my fitness, but also I am hoping it will help my nerve damaged leg to feel normal again. They need more people to join up so please tell your friends as it's a great project!
As Soraya says, you never forget how to ride a bike! So if it's been a while since you've been on a bike, or you would like to try cycling for the first time, you can find free Learn to Ride sessions as well as other cycling activities to build your confidence and skills in a relaxed setting at: www.theaws.co.uk/events
Everyone is welcome, and bikes, helmets and friendly instructors are included!