Another significant milestone passes for the Active Wellbeing Society as we hold our first Annual General Meeting.
Our first Annual Report details our journey of "establishing ourselves", while at the same time continuing to deliver the innovative and fantastic services and programmes that we provide to the citizens and communities of Birmingham.
Birmingham City Council Cabinet approval for business plan and green light for transfer of phase 1 outreach services was secured on 12th December 2017.  By the end of January 2018 the Chief Executive, Karen Creavin, had started work.  A small group of staff from Birmingham City Council Wellbeing Service were released part time to support the development of The Active Wellbeing Society.
'It has been an honour, on a personal level, to lead the service from the council into TAWS. I am extremely proud of all the hard work and commitment of the staff, volunteers, and our partner organisations. The quality of our delivery could have easily suffered during this time, and people within BCC and TAWs have worked hard to prevent that from happening wherever possible. There is much to be proud of and build on, and there are many opportunities to capitalise on. This is an exciting time to be in Birmingham, working in this field, but we cannot underestimate the scope of the work we have to do and the level of need that some of the poorest people in our country experience here in Birmingham on a daily basis.'
Karen Creavin, CEO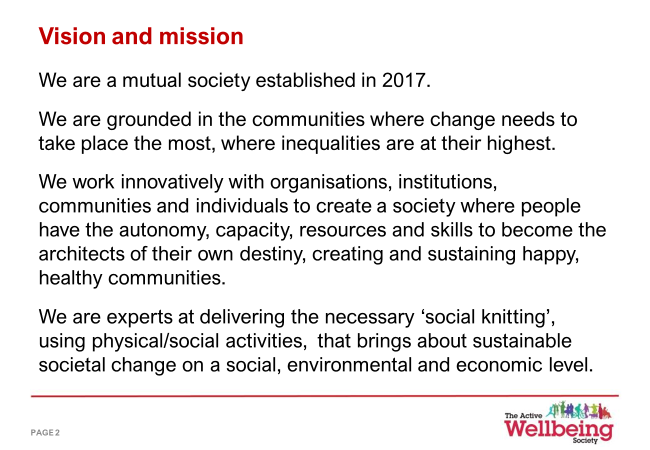 Find out more about our Board of Trustees and meet our team.
Making a Change