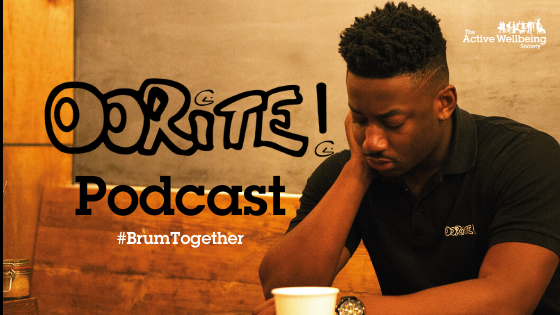 We are super excited to announce the launch of the OoRITE! podcast as part of #BrumTogether hosted by Birmingham-based grime artist, C4.
The OoRITE! Podcast is a new series in which 4 people have real conversations online using Zoom, discussing how we're doing during the current outbreak. For the next month The Active Wellbeing Society and C4 will collaborate on episodes with different guests every week!
We want to shed light on the highs and lows of lockdown experience, showcase some of the positive work taking place in Birmingham during this time and discuss ways we as a community can connect with each other and stick together going forward.
C4 grew up in Birmingham, and has been creating music and art from a very young age, performing on the likes of BBC 1xtra, Radio 1 and other major radio station playlists for the past 10 years. The word OoRITE! is a Brummie way of saying 'alright' – which is fitting title of our collaboration podcast – through the podcast we want to check in with our fellow Birmingham locals and see if they're alright!
This week we welcome guests Faith, Daniel & Nicky🌟
Faith Pearson is a freelance artist, gardener and playworker working with communities across Birmingham, a Director of Crick Gardens community garden in Handsworth and also Director of The GLUE Collective (Growing and Learning in Urban Environments).
During the lockdown, Faith has been participating with the Creating Civic Change art project with Birchfield Big Local finding different ways to engage the community in creativity, including creating an art pack to go out to families with food deliveries. She is involved with New Shoots Gardening Group in Ward End and they have been developing a virtual club via Whatsapp and You Tube with 'sew your seeds at home' being sent out to members.
The lockdown meant that a lot of her work was cancelled and then slowly everything started to be reimagined with different ways of connecting communities.
Nicky Brennan is a Birmingham City Council Councillor, domestic abuse advisor and the founder of Brum Baby Bank. During the current crisis, Nicky set-up an organisation to help families with young children across Birmingham with access to resources, and is also helping with domestic abuse strategy for the city.
Overall, she has found that the lockdown has most significantly affected her with her children being off school, managing their anxieties and home schooling alongside juggling work.
Daniel Bowen-Smith runs a group called 'Sports for Kids' doing sports and mentoring with young people aged 5-18 and also runs community programmes with Birmingham City FC Community Trust.
Since the lockdown, Daniel has been connecting with organisations to create ways of checking in on young people who may be struggling with the current situation. The Salvation Army and Sports For Kids have been creating online platforms on Fortnite or FIFA as well as Zoom to talk to, support and connect with young people.
To hear more about how the lockdown has impacted these people and their take on settling into new routines listen to episode 1 of the podcast here: