Birmingham is slowly rising again after a national lockdown in March that pretty much paralysed my gorgeous, canal laden city. According to the United Nations, this global coronavirus pandemic has emerged as the most challenging crisis since the Second World War.
Schools, offices, factories, construction sites, universities and even taxi firms have been closed. Most employees are working from home, many were furloughed eventually, but many also lost their jobs. A challenging time for thousands of people. Tragically, over 45,000 people have died in the UK from the dreaded illness. In May it was reported that 181 NHS workers and 131 care workers had died. The virus has been ruthless.
Our amazing frontline workers – NHS workers, care home staff, police and fire officers, teachers, supermarket and council employees – have all been at work protecting, supporting and caring for us all. They really are the best of Birmingham.
But what hasn't surprised or shocked me is Birmingham's reaction to this crisis. In a matter of days voluntary, community, faith and charity groups planned, organised and implemented support services to help the most vulnerable in our city. Hundreds of thoughtful volunteers have prepared food parcels, cooked meals and delivered groceries to weary households to ensure no one was left to struggle alone. Brummies have been brilliant!
The Active Wellbeing Society (TAWS), a Birmingham based community benefit society, initiated weekly online meetings to bring these mutual aid groups together. Likeminded individuals squeezed together on our computer screens during Zoom meetings to formulate realistic, effective plans to serve our city. The #BrumTogether collaborative was formed!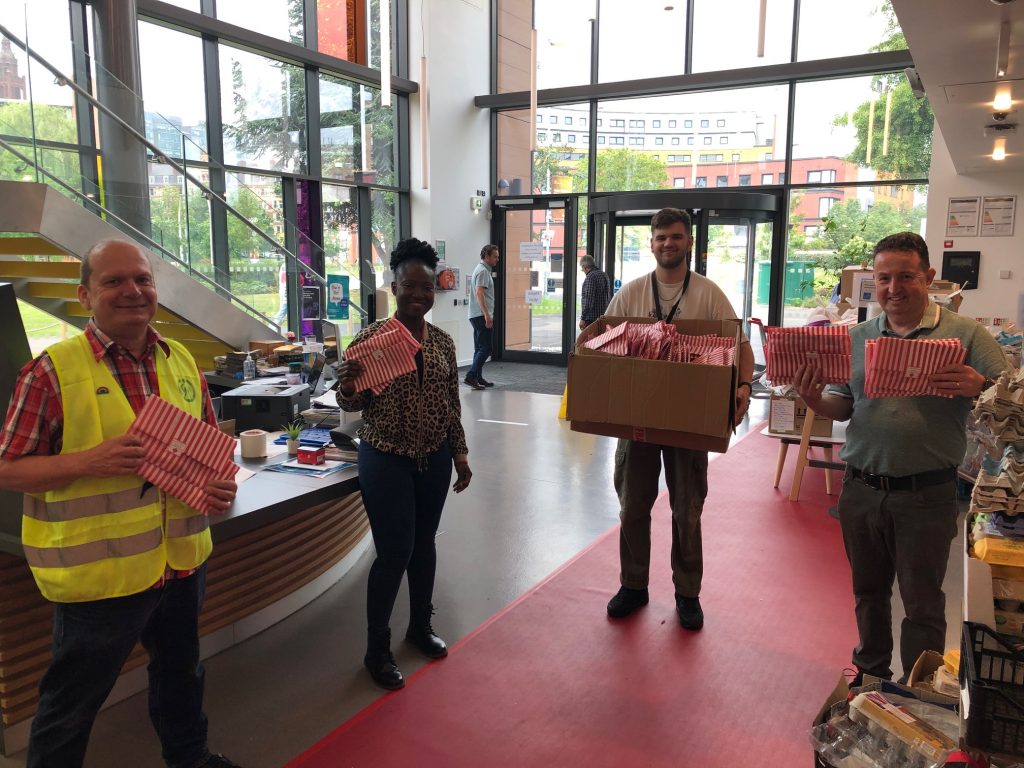 The network now includes more than 80 partner organisations all working together to provide those most in need with essential support and services. As well as food parcels, hygiene products, clothing, baby supplies and children's activity packs are also delivered to homes across the city. I may be biased, but Birmingham has faced up to the coronavirus with compassion, commitment, and care. We won't allow a deadly virus to defeat our 'can do' attitude!
We have all contributed to the extraordinary aid effort. Whilst working full-time from home, I have secured donations of large paper bags from a local packaging business. These bags were packed with essential groceries and then delivered to homes in need. The Brum Baby Bank was set up to support parents with newborn babies, offering many essential items that families might need. I contacted a national company supplying sanitary products asking for their support. Within a couple of weeks, thousands of sanitary and kitchen cleaning products were delivered to the city's main distribution centre in Ladywood. My motto, 'if you don't ask, you don't get' definitely paid off! I even roped in my talented brother-in-law to help repair a ramp at the distribution centre. He is a creative, generous man!

Thankfully, I have been able to leave my home office to meet the incredible teams of volunteers in action. The Edgbaston Cricket Ground have offered their space and staff to help organise the street food collections co-ordinated by Near Neighbours and Thrive Together Birmingham. The donations are sorted onto tables so food banks and other community groups can then request a list of food items from the selection available. These are bagged up and labelled, ready for collection. Fred Rattley and his team run a seamless operation!
Change Kitchen is an award-winning event caterer and thriving social enterprise. Since lockdown was announced, Birgit Kehrer and her army of volunteers have been patiently cooking at the Rowheath Pavilion in Bournville (a venue normally serving wedding parties and professional events) and delivering nourishing meals to hundreds of homes. Alongside this immense arrangement they were also operating a food bank catering to specific dietary requirements. Meeting Birgit was wonderful! Her energy and commitment to #BrumTogether is evident and infectious!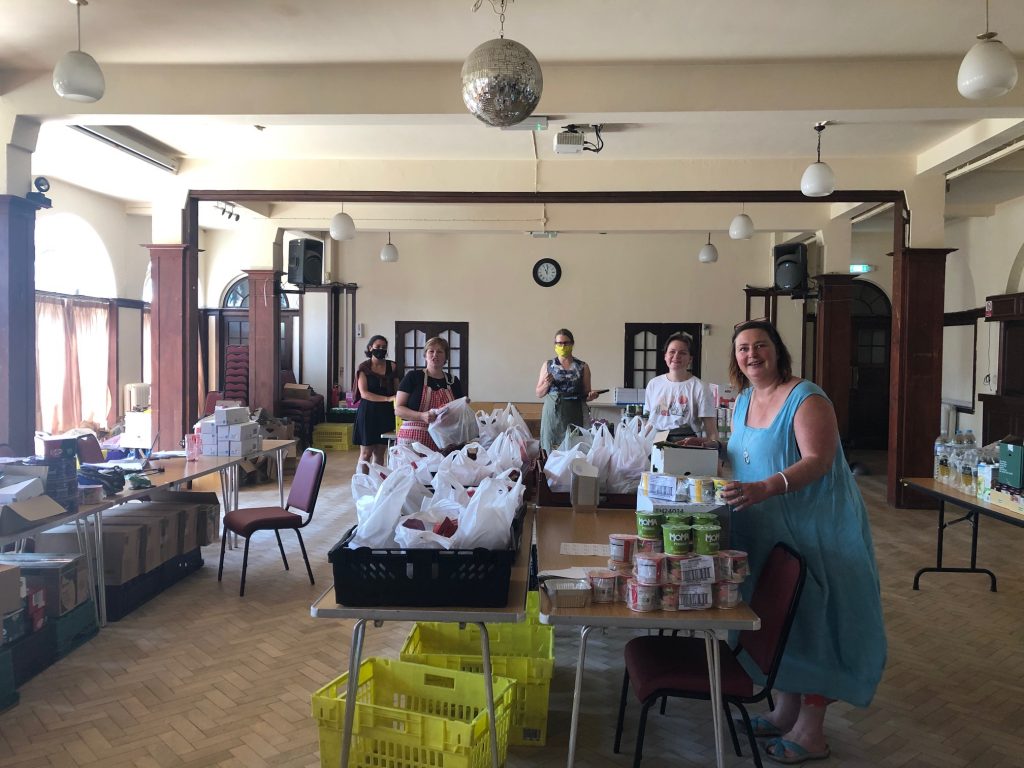 I have also visited the latest distribution centre based at the Aston University Student Union building. All the staff and volunteers there work tirelessly to ensure food and other household items are delivered to homes efficiently. FareShare West Midlands redistributes surplus food from supermarkets and delivers tonnes to the distribution centre weekly. Birmingham City Council have also contributed large amounts of food to this vital cause. My mobile pings frequently with messages from Paul and Bryn, at TAWS, informing the Food Task Group when fresh food has arrived! Immediately there is a flurry of activity as the requests flood in from the community aid groups. I know Monica now because she always needs food for Stanhope Wellbeing Hub on a Wednesday for her foodshare families. She is a local lockdown legend!
As you can see, doing nothing was never an option for Birmingham. Over the last three months, I have met and worked with a tremendous group of people. They have gone above and beyond to help the most vulnerable across the city. We have all worked well together because our intentions are identical – to support the most vulnerable and disadvantaged in our communities and we are all focused on doing the best we can. We know this pandemic is not over yet. We understand the need is great and we pledge to continue our work, side by side, for as long as it takes. This is Birmingham. This is my community, and this is how we roll in a crisis!