GoodGym's ethos is to help people get fit while doing good deeds, so it may come as no surprise that some of Birmingham's GoodGym members have been helping out with #BrumTogether.
We recently caught up with, Tousif, who's been a member since November last year, and John, who's been a member for three years, to find out a bit more about how they, and their fellow GoodGym runners, have been helping the city-wide campaign.
But before we start, here's a quick overview of how GoodGym's members 'do good.' Members can take part in one or more of the following:
Mission runs – where members run to help older people with one-off tasks they are unable to do by themselves, such as clearing their garden or changing lightbulbs.
Coach runs – members run to make social visits to isolated older people, who are affectionately referred to as their 'coaches' because they motivate them to keep going.
Group runs – members run in groups to do physical tasks for community organisations.
However, when Coronavirus hit and social distancing measures were implemented, the usual runs were no longer possible.
But this didn't stop GoodGym Birmingham's members from staying active or helping others.
Over the last few weeks, eight members have been taking part in community missions, whether that's inside packing and organising food at Ladywood Community Centre or outside, making the food deliveries. Here's two of the members, Fiona and Helen, hard at work…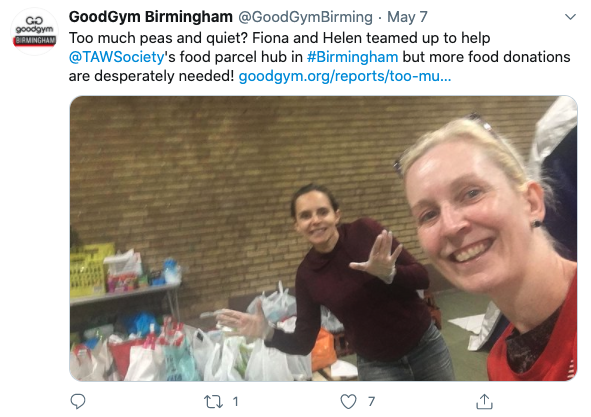 Meanwhile, another eight members have been helping out at The Trussell Trust's food bank in the city centre on Monday nights. GoodGym member, Dave, has been putting in regular shifts there: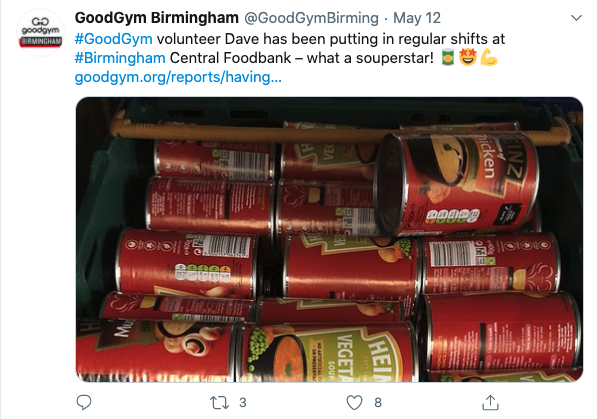 And despite it not being possible for everybody to run to their #BrumTogether community missions, many of them are still managing to get a workout as they go up and down stairs delivering food and putting together food parcels. GoodGym volunteer, Anthony, is among the helpers who's been out and about delivering food parcels: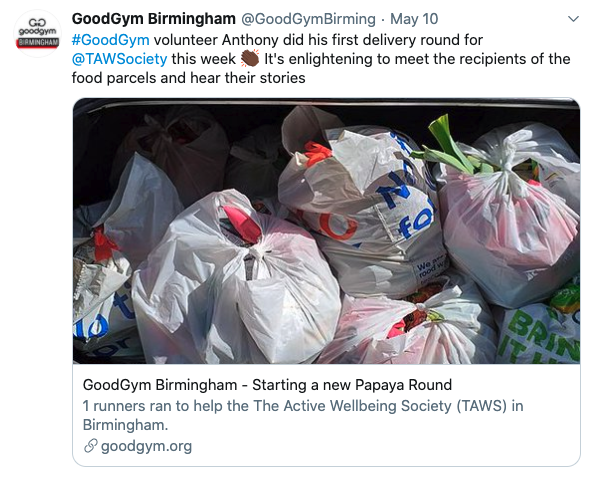 Tousif said: "Everybody's really grateful, I delivered to one lady the other day who didn't know she was getting a parcel. It's amazing to see how many organisations are pulling together and it's all being co-ordinated by The Active Wellbeing Society. The number of parcels that are going out every day is mind-blowing, it's a massive operation."
For more information about #BrumTogether's food donation campaign, which is being delivered by a network of more than 60 partner organisations, visit https://theaws.co.uk/food/.
If you would like to make a donation to #BrumTogether, visit https://www.justgiving.com/campaign/brumtogether (all money received will go directly to the purchase of food items, hygiene packs, baby packs and activity packs for kids).